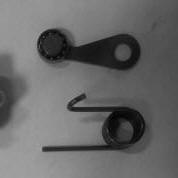 SHFT-PRO-EBRX0010.1B6-KT $239.95
fits
EBR 1190RS / RX
(replaces oem: X0010.1B6 arm and CG0003.1B6 spring)
(inc 1 Microbearing Detent Arm and 1 F-Pro Shift spring. Clutch cover gasket not supplied)
Pro Shift Kit

As used by EBR in AMA and WSBK

Proven in 15+ years of pro level use.

Virtually eliminate missed shifts.

Decreases shift process 5mm to 10ms

Make shifting MUCH quicker and virtually eliminate missed shifts.

Helps address missed shifts caused by soft spring and high friction detent arm roller.

Helps prevent shift fork and gear engagement dog damage caused by missed shifts.

The Factory Pro Shift kit is an awesome upgrade for the notchy shifting.

Installation: Slightly more complicated than replacing the clutch basket. It's right behind the clutch basket.

No case splitting required.