.................................................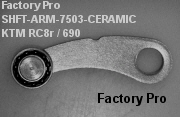 SHFT-PRO-KT75-KT-
ceramic
Premium
Hybrid Ceramic 7 Ball Bearing and F-Pro Shift Spring
16-21
$139.95
...........................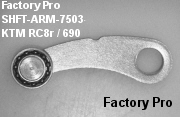 SHFT-PRO-KT75-KT-std $109.95
std steel bearing
Microbearing Detent Arm and F-Pro spring

Pro Shift Kit FEEDBACK

I rode the 690 up 50 miles each way to some trails in southern Wisconsin yesterday. The shifting was spot on for both the 100 miles of tarmac and 30 miles in the dirt. Granted I was only shifting between 1st and 2nd in the dirt. The new lever lock arm you sent helped a bunch on the trail.


Keith Ortiz

I emailed Marc inquiring about getting my bike tuned and received a response back in 15 minutes. We set up a time to drop it off that weekend which really worked well for me because I work during the week. I couldn't be happier with the excellent customer service. Marc installed a custom shift kit in my bike and the difference is night and day. It shifts so smooth and quickly now. THESE GUYS ARE THE BEST!!!!!!!!!!!

Chuck H. / Santa Rosa


Virtually eliminate missed shifts and false neutrals. Quicker shifts.


The 701 / 690 has lazy shift action. Not what you want when Super Motard racing or jumping those doubles or splitting that lane.

A customer told me that "Yeah, it doesn't shift nicely, I just boot it when it's important that I don't miss a shift.".

Factory Pro's opinion is that if you nudge the bike out of one gear, it ought to go into the next gear.

The stock shifting, on the 701, can be sketchy under even recreational use.
Some individual bikes, more than others, have a propensity for false neutrals and missed shifts in critical situations.

Changing the oil can make, maybe a 10% difference and perhaps moving the lever up or down can make a 10% difference - and this shift kit is a stunning 100% difference.
In other words, use any old oil and have your lever set almost anywhere realistic and it will still shift well.

Factory Pro can massage your shift mechanism into a "sick, snick, snick" shifting transmission.

Virtually eliminate missed shifts and false neutrals.
Installation: About 1-2 hours - no case splitting required.

Available with 7 ball Steel or 7 ball Hybrid Ceramic
Microbearing.

Close to San Francisco? We can install.

Call for appointment.
415 472-4962


marc@factorypro.com

...............................

Abbreviated installation notes (use Husqvarna 701 or KTM 690 service manual!)

not necessary to drain oil if leaning bike on the sidestand.
pull right side engine cover.
take off left side shift lever.
remove left side shift shaft circlip.
on the left side, push shift shaft in a bit to allow access to the detent arm and spring on the right side.
don't pull the shaft out all the way as oil will come out the shift shaft hole.
remove stock detent arm and spring.
install new arm and spring using a drop of Loctite on the pivot mounting screw - do not pry on the bearing race.
reinstall in reverse order.