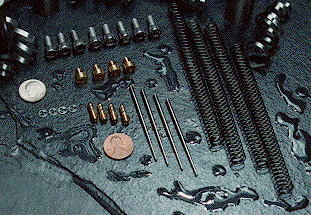 (stock picture of carb parts - The #1 KTM 250 kit includes a selection of mains, a selection of pilots, 8 clips and a needle that should be good up to about 6,000 ft.)

(Kevin, thanks for the loan of your bike)

#1 Level KTM Factory Pro Jet kit
(includes the magic Factory Pro Emulsion Tube)

no drilling, no tapping in this jetting kit. JD

Intro Special - $59.95
reg price $79.95)

pn: CRB-KTM250XCFW-0.5
Nobody ever gives "JD" a run. :-)
We decided to produce this kit. In the past, we have produced quite a few off road kits and installed ooodles of them in stock and previously rejetted Hondas, Yamahas and a smattering of others, but never really marketed them well. If you are familiar with AMA level roadracing, you'll remember that Factory Pro was the preferred jet kit for 9/10 of the field. Our kits were preferred because they made the best lowend, midrange and topend. Factory Pro also owns several tuning patents, including in carburetion and dynamometers.
This KTM Carb kit is the only carb jetting kit that was developed on the EC997 Low Inertia Eddy Current dyne system using a 5 gas EGA. Experience the same level of carburetion refinement that AMA Pro's used.
Designed to deliver best mileage with improved throttle response and better power at both full and part throttle. Can be significantly better than other jet kits.
What was amazing was that even at just above idle, in first gear, you could snap the throttle a teeny bit and lift the front wheel over a log- making this jetting kit awesome for best throttle control.
applications:
KTM EXC-F / EXC-fW / XC-F 05-11
SX-F, till 2010
all yrs CARBURETED 4 stroke 250 models, 05 to 11
800 869 0497 415 491 5920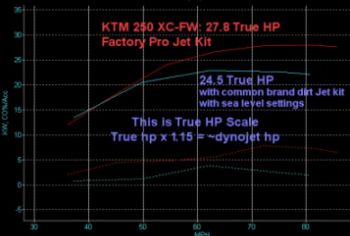 KTM
250 XC / XC-fW
Factory Pro #1 Entry Level jet kit (at sea level) vs. common dirt jet kit (set at suggested sea level settings). Same bike, one day apart, same dyno.

We have tuned loads of FCR equipped bikes to AMA pro level standards - We are pushing to find more offroad bikes to develop kits for - Don't see your bike here?

new offroad tuning program - click here