TuneECU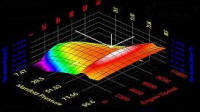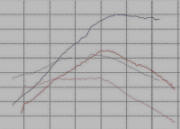 (just a dyno chart - not a 690 chart)

As of June 2019,


TuneECU is not yet compatible with the 2013 and later "Duke 4" ecu.



Trackday Fuel Injection Tuning Service / fuel and ignition blueprinting.


The 690's are awesome but they have consistent drivability issues: surging and poor throttle response with their Keihin ECUs.

We have been involved in fuel tuning since 1971 and have been tuning oem EFI since 1998.

Wheelsmith / Factory Pro has experience, up to professional racing levels, with maybe 25 to 30 different FI systems - from the common power Commander to Magneti Marelli and Motec. Factory Pro even sorted out the first Gen Aprilia Milles and the Ducati 748rs and 900SPS - which was probably used to dial in their later bikes.

On to the 690.....

The 690's use a Keihin FI system.
The 08+ 690's have a "fly by wire" throttle system, in a concerted effort to make the throttle response more forgiving.

Unfortunately, the stock mapping tries to do too many things and that results in extremely abrupt throttle response - that ruins the quality bike experience.

Excellent improvements are obtained by doing several important things:
Resetting thresholds and crossover points,
re-sculpting ignition tables
Adjusting TP tables
Custom tuning fuel tables.

It's not an option to just throw a power commander on it and "tune it to an air fuel ratio"

As most professional tuners and riders know, to get optimal results, it's required to dial in fuel SPECIFICALLY for each bike. Each bike, especially at low rpm / small throttle opening, can be quite different than a different, identically equipped bike. That's why a few people can get good results by downloading "some perfect map" and the next person isn't as happy.


Why tune at Wheelsmith?

Wheelsmith uses a research quality EC997 dyno - No "tune to an AFR" dealership level dyno. We use a 4 or 5 gas EGA to derive the most optimal combinations of gas readings and fuel ratios to deliver the best blend of efficiency and power.

40+ years of carb and FI tuning experience.

Wheelsmith "flat rates" most standard level trackday tuning - you know, pretty much, how much you are going to spend before you drop off the bike.
Tuning "by the hour" always introduces anxiety.


Properly custom tuned, the 690 is a dream trackday bike.


Custom Trackday Tuning Appointments

415 883-5620


M-F 9am-5pm Pacific time

marc@factorypro.com
...............................................................................


Tuning Feedback


ECU remapping solved problems... When I bought the 690, I didn't notice the throttle notchiness that much, too excited I guess. After a couple of weeks I went online and found that there was a definite problem with the stock KTM mapping. I can't believe how much better it is now. All the jumpiness is gone and the power rolls on steady like it should. It idles smoother and has 2hp more than before. unbelievable.
Even the mileage seems to be better.
Thanks, Marc and Raul for the good work.

SEAN MCLEOD


My 690 runs night and day differently. Before it was jerky at part throttle and impossible to ride smoothly in town and on tight trails. Now it's like silk everywhere I ride. My 990 is on the schedule to get remapped, too. Great mod. Recommended.



I tried downloading TuneEcu maps and none were perfect at low rpm.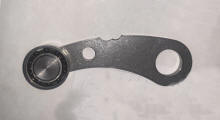 The new 690 / 701 arm has an xtra lightening hole and a double dip spring clearance notch.

SHFT-PRO-KT75-KT-
7 Ball
-CER
Premium
Hybrid Ceramic 7 Ball Bearing and F-Pro Shift Spring
$139.95
...........................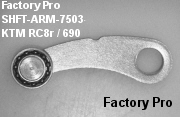 pn: SHFT-PRO-KT75-KT-STEEL

$109.95

std STEEL bearing
Microbearing Detent Arm and F-Pro spring
Pro Shift Kit FEEDBACK

I rode the 690 up 50 miles each way to some trails in southern Wisconsin yesterday. The shifting was spot on for both the 100 miles of tarmac and 30 miles in the dirt. Granted I was only shifting between 1st and 2nd in the dirt. The new lever lock arm you sent helped a bunch on the trail.

Keith Ortiz


I emailed Marc inquiring about getting my bike tuned and received a response back in 15 minutes. We set up a time to drop it off that weekend which really worked well for me because I work during the week. I couldn't be happier with the excellent customer service. Marc installed a custom shift kit in my bike and the difference is night and day. It shifts so smooth and quickly now. THESE GUYS ARE THE BEST!!!!!!!!!!!

Chuck H. / Santa Rosa




Virtually eliminate missed shifts and false neutrals. Quicker shifts.


The 690 has lazy shift action. Not what you want when Super Motard racing or jumping those doubles or splitting that lane.

A customer told me that "Yeah, it doesn't shift nicely, I just boot it when it's important that I don't miss a shift.".

Factory Pro's opinion is that if you nudge the bike out of one gear, it ought to go into the next gear.

The stock shifting, on the KTM 690, can be sketchy under even recreational use.
Some individual bikes, more than others, have a propensity for false neutrals and missed shifts in critical situations.

Changing the oil can make, maybe a 10% difference and perhaps moving the lever up or down can make a 10% difference - and this shift kit is a stunning 100% difference.
In other words, use any old oil and have your lever set almost anywhere realistic and it will still shift well.

Factory Pro can massage your shift mechanism into a "sick, snick, snick" shifting transmission.

Virtually eliminate missed shifts and false neutrals.
Installation: About 1-2 hours - no case splitting required.

Available with 7 ball Steel, 7 ball or Hybrid Ceramic
Microbearing.

Close to San Francisco? We can install.

Call for appointment.
415 472-4962


marc@factorypro.com

...............................

Abbreviated installation notes (use KTM 690 service manual!)

not necessary to drain oil if leaning bike on the sidestand.
pull right side engine cover.
take off left side shift lever.
remove left side shift shaft circlip.
on the left side, push shift shaft in a bit to allow access to the detent arm and spring on the right side.
don't pull the shaft out all the way as oil will come out the shift shaft hole.
remove stock detent arm and spring.
install new arm and spring using a drop of Loctite on the pivot mounting screw - do not pry on the bearing race.
reinstall in reverse order.