| | | |
| --- | --- | --- |
| | Aprilia rsv1000 Mille, 02-03 | |
The "only" Aprilia chip to use!

Factory Pro



"GP Gold" Chip

Believe it or not, even after burning 1000's of the 1413 chip, we have never done a "production" chip for the 02-03 Mille.

That means that we need to do custom tuning for the 02-03.

That's the Bad news - The Good news is that it's custom perfect for your bike and you don't have to buy a fuel regulator.

415 472 4962

Fuel pressure Regulator, adjustable

EFI-REGADJ-A10
regulator assy.

Order direct from Evoluzione.net
If you are lucky and have an Aprilia that has 43/44 psi (3.0 bar) fuel pressure, the 1413 chip will drop in and do amazingly good things.
If you have more than 45 psi, the chip will be too rich. If you have fuel pressure of 52psi/3.5 bar, the 1413 chip will be too rich and mileage will drop 20% to 30% - with not much, if any performance increase.
So - in order to prevent initial problems and to allow fine tuning after install (for different airbox mods or porting or cams), get the regulator and gauge adapter now.
Note: 1/4 turn on the adjuster screw = ~1 psi change - and magically - 1psi is about equivalent to a main jet size!
EFI-FPGAU-A10
fuel pressure gauge adapter

Please order direct from Evoluzione.net
Yep - you need this part, too.
This will allow you to attach a gauge to measure the fuel pressure.
If you don't want to purchase a gauge from us, it's a "Schrader type" adapter, just like a tire or tube.
EFI-REGADJ-A10 gauge assy.

Please order direct from Evoluzione.net

For easy, stylish use - the Evoluzione fuel pressure gauge
will allow clean, accurate measurements of your fuel pressure (uses the above gauge adapter's port).
EVO Shift STAR kit - The Famous.



SHFT-EVO-A10-KT
$239.95

inc star, microbearing arm and F-Pro shift spring - does not include clutch cover gasket.

EVO Shift STAR kit

This Evo STAR kit will make your Aprilia shift smoother, quicker and virtually eliminate missed shifts.
Takes 1-2 hours to install - requires right side clutch cover and clutch basket R&R.

Online review

http://www.apriliaforum.com/forums/showthread.php?227299-Factory-Pro-Shift-Star-Reveiw


.....................

Love the bike? Except for the shifting?
Shifts quicker.
Misses fewer shifts.
Feels RIGHT.
Perfect to install when working on the clutch.
Remove the RH engine cover, remove the clutch assembly - bolt it on.

Less than 2 hours to install with impact wrench and large socket set.

Can I install it myself? Installation page


Call 800 869-0497 to order or email here.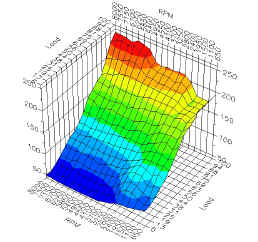 ---


What does it take to design a map for a fuel injection system? A few things...
An exquisite, low-inertia dyno, the EC997 with 4-Gas EGA, that can measure part-throttle engine smoothness (State of the Art dyno feature - and not a dj feature)
A willing customer or 2 or 3.....
30 years of experience performance tuning for power and tuning street motorcycles for low speed / part throttle drivability - We don't have to mention Yoshimura, Muzzy, Honda, Yamaha US as users....
Software to find maps and index the maps.
Realtime Emulators, EPROM burners, UV EPROM Erasers, lots of chips.....
Patience. Patience. Patience. Dedication. A desire to do the best.
The Denso ECU used on the Aprilia has separate maps for the front and rear cylinders for injection pulse AND ignition timing, among other maps. That means that, if you have the patience and equipment to properly tune, after you are setup, you can fine tune to the proverbial "T".
It's done.
Power and Drivability. Most and best.
Call. Get one. It's good for you and your Aprilia.
Email about the Power Commander Trade-in Upgrade Program and the competitive EPROM upgrade program.
Trade-in info request
---
I want to custom map... but...
I can't make it to Factory Pro's Center in San Rafael (near San Francisco) for a while...
We will, within a year of purchase, direct or from a reseller, apply the actual sale price of the chip towards current, custom mapping charges.

Easy!
Marc



Factory Pro Gold EPROM Tuning
Mille: Factory Pro RSVZ1413 / Stock exhaust, Mille 1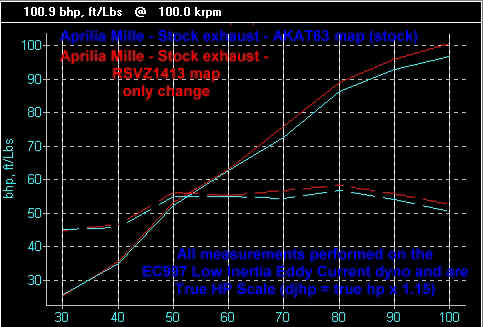 + 4 True HP with just RSVZ1413 eprom installed. Typical improvement shown.
This power measurement was measured under load, as in the real world and is on the True HP Scale.
(To compare djhp numbers in the 100 True area, multiply True HP x 1.15)
The improvement with any other type of exhaust system, including Akrapovic, is still in the 3-4 range, with every other exhaust that I've
tested, being 3-4 True HP, too.
Note: Expect lower hp improvement numbers if tested on lightweight inertia dynos. Unrealistic low loading causes real world load present power to not be evident. True HP is measured under load - as is present on track or road.

Factory Pro Gold EPROM Tuning
Falco: Factory Pro RSVZ1413 / Falco report 3
From: "Ben Dennis" <zxxxx@hotmail.com>
Subject: Friday Stopover
Date: Thu, 26 Aug 2004 15:00:56 +0000

Marc and all you others. My trip from Seattle to Santa Barbara back to Seattle was highlighted 
by your incredible service and assistance a few Friday's ago.

When I stopped in late Friday and found you both willing to help me put the new chip in my Falco 
AND offer to treat me to BBQ, I was amazed and grateful. You guys ROCK!

The chip is great and helped make the ride home more enjoyable. I am looking forward to putting the shift kit in 
when I get some time.

thanks so much for your help and your personal service.

Ben Dennis
Seattle Fire Department
Factory Pro Gold EPROM Tuning
Falco: Factory Pro RSVZ1413 / Falco report 3
From: "Chris Warren" <anzacinexile@hotmail.com> 2:47 AM
Subject: Falco Eprom
To: factory2@ix.netcom.com

Marc,

Got your chip on Saturday, fitted one hour later, grin still on my face.

What a fan-bluddy-tasic job you have done. Ran the Arrows chip before which is not bad but now running yours.........

Even had enough adjustment left on the idle screw so I didn't have to fanny around with the air bleed screws.

Many thanks for a superb product.

Chris
Factory Pro Gold EPROM Tuning
Falco: Factory Pro RSVZ1413 / Falco report 2
From: whoanelly@w...
Date: Fri Oct 12, 2001 3:49 am
Subject: hsiftac, imho chip is worth the $$... (longish)

> It's better then stock, smoother down low, more up top. Is it a $230 upgrade,
> I don't think so. I'm waiting on my 15 T sprocket now.
> Hsiftac

Well, when I got my falco and felt the 3700 rpm stumble and the 5500 rpm hesitation, I just said "oh well". After riding with it for 6000 miles, it drove me crazier and crazier. When I had to crawl through town stop and go, the stumble was right at 20-25 mph.
When I got going, the midrange hesitation was there. I was fuming that I bought a 12k bike with crap injection.

I have tried 3 different chips trying to get rid of the stumble, none did. I have spent hours on a dyno trying to nail it down and get rid of it.

I was at the point where I was willing to give my bike to a shop and let them keep it until it was sorted out.

Along comes Salvisberg and Factory Pro. I get one chip, pop it in, turn a few screws, and there you go!!!

Can you say symphony?
Can you say heaven?
Can you say finally?
Can you say this bike ROCKS!!!

Aprilia should have shipped the bike this way, but I am doggone glad Marc spent the long hours over many days developing this product. Well worth it. Hsiftac, not to be a wise-a$$, but even if you could have, what would it have cost you to develop a custom map that is this good?

Factory Pro Gold EPROM Tuning
Mille: Factory Pro RSVZ1413 / RSC Titanium Evo slipon
Subject: Factory Pro Chip
Date: Tue, 2 Oct 2001 06:35:31 -0700 (PDT)
From: loiosh@wolfspaw.com
Reply-To: rsv1000@apriliaworld.com
To: <rsv1000@apriliaworld.com>

Wow.
It's difficult to quantify the changes...
I've got an Evoluzione filter, and titanium evo can (that's about the only mods that actually would affect engine/map performance).
I'm using the R14 (wire connected) map at the moment haven't tried R13 (wire disconnected) yet.
Feels like a different bike.
Pulls MUCH harder.
Front end comes right up in 1st, haven't tried a powerful roll-on in 2nd but my guess is it'll be much the same improvement.
The power feels much more readily accessible.
Hopefully this weekend, I'll get to my 'secret testing area' where I can open it up completely, and see which map I like better.
more info soon.
-w

PS marc: thanks for making a great chip.

UPDATE October 8, 2001

Subject: Re: What to do to a new 2001 R
Date: Tue, 9 Oct 2001 05:10:17 -0700 (PDT)
From: <loiosh@wolfspaw.com>
To: Marc <factory2@ix.netcom.com>

You can quote me on this:
After trying the Factory Pro 1413 chip for less than an hour, I threw away the chip that came with the can.
It was OBVIOUSLY defective ;)


Factory Pro Gold EPROM Tuning
Mille: Factory Pro RSVZ1413 / Shark exhaust 1
Subject: Chipping Along / Mille at 5000ft/1500m elevation
Date: Wed, 29 Aug 2001 20:34:27 -0600
From: "Steve Weinhold" <SWEINHOL@westerngas.com>
Reply-To: rsv1000@apriliaworld.com
To: <rsv1000@apriliaworld.com>

While at Laguna Seca with the Mille this year, I purchased a chip from Marc Salvisberg. Upon returning to Colorado I installed same only to find the bike would not start. This was not a total surprise since it had also happened previously with an Arrow chip. I contacted Marc, who immediately mailed me a different chip to try (which I didn't due to time constraints). I met up with Marc at the AMA Superbike / Pikes Peak event.
He determined that his original chip was the victim of a "technical" problem (ask him). He gave me the RSVZ1413 chip to try which of course worked.
(Yes. Steve was the victim of "software said that it did it but it lied." once with us and he also got one of the other "umprogrammed" chips from another source's batch. Won't happen again with us. Now, we reread and compare, each chip, in a separate operation, just to make sure..... Marc)

Although his commitment is to the racers at these events he spent several hours with my machine on the dyno Saturday evening further optimizing the 1413 chip for my particular configuration. The upshot of these efforts is as follows:

-the machine has a noticeably crisper exhaust note
-idle speed went from 1000 to 1600 rpm requiring a reset
-acceleration from throttle roll-ons is markedly more urgent
-fuel mileage is slightly improved
-the surge associated with throttle off to throttle on has been virtually eliminated

In summation, the bike is now a greater pleasure to ride and I thank Marc for his time and dedication to excellence.

Steve Weinhold
Longmont, Colorado

* List sponsored by Jack Lilley Ltd http://www.jacklilley.ltd.uk *
* RSV page and Mailing list options http://www.apriliaworld.com *
1 Factory Pro Gold EPROM Tuning
Mille: Arrow Shotgun system / Evoluzione Air Filter/ Ignition Amp.
Subject: New chip/map & shock
Date: Sun, 29 Jul 2001 11:58:24 -0700 (PDT)
From: Eric Burdick <lucsdad@excite.com>
Reply-To: rsv1000@apriliaworld.com
To: rsv1000@apriliaworld.com

A couple of weeks ago, after the races at Laguna Seca, I had a chance to drop off my bike to Marc Salvisberg at Factory Pro in San Rafael, CA. He (and Raul) made a chip/map for my bike and I was able to pick up 5 more horsepower.
(It takes the 4 Gas EGA EC997 to make that kind of improvement, no other dyno will let you build the improvements, M)

Last night was my first opportunity to ride the bike since then. My bike was in the shop the last two weeks getting a new shock. I upgraded to an Ohlins unit (same as the R model) after I blew the rear shock on the trip up to Laguna Seca (long story).

Anyway, the bike has a noticeable power increase and runs smoother now.
It really seems to pull harder above 6000 rpm.

When I picked up the bike from my dealer last night, the guy that had replaced the shock and bled the rear brake on my bike wanted to know what performance mods I had done to my bike.

He said, having ridden lots of different bikes, that my Mille was the smoothest running that he had ridden and was very impressed.
Of course, this was nice to hear from someone else who would be more objective than I would be about my bike. I would definitely recommend Marc's product, it's worth every penny.

Also, I would definitely recommend Ken Zeller's (evoluzione.net) products as well. I am also using his air filter, plug wires, "new volt" ignition amplifier, and 44 tooth rear sprocket (among other things from his company).

All of these changes have contributed to the way my bike runs & handles now. After all that has been done to my bike, the only thing left to do now (performance wise) is get the suspension set up for me by the pros.

Eric
00.5 Mille #111

* RSV page and Mailing list options http://www.apriliaworld.com *
2 Factory Pro Gold EPROM Arrow system Tuning
Mille: Arrow Shotgun System / Evoluzione Air Filter
Subject: Factory Pro Tuning
Date: Sat, 21 Jul 2001 15:17:36 -0400
From: "mikecrow" <mikecrow@neo.rr.com>
Reply-To: rsv1000@apriliaworld.com
To: <rsv1000@apriliaworld.com>

I just spent the day with Marc Salvisberg at Mid-Ohio. And while he did his normal race weekend dyno testing/tuning for the racers, he also spent about 6 hours working on Mille's today, including 3 or 4 hr's working on mine.

I received my new RSVZ1413 chip from Factory Pro Thursday, I wanted a chance to ride the bike before it got retuned at Mid-Ohio. And Wow the bike runs smooth. I put about 15 miles on it last night and 90 this morning it felt really nice.
The chip I started with has map 13 and 14 in it.
Early this afternoon Marc started by dyno'ing my bike with the standard chip he'd sent me. He did a set of pulls from 3,000 rpm to 10,000 rpm at WOT, and a number of part throttle pulls. He spent about 45 minutes taking readings, then went off for about an hour making changes to the maps he's already made. He then burned another chip and put my bike back on the dyno. With this chip it
recorded a best of about 96 True HP which in 100 degree heat corrects to about 102 SAE corrected True hp. He also told me that it would be in the 115-120 hp range on a Dynojet.

He worked on a stock Mille while I was there, it was unrestricted and made about 89 hp before and 93 hp after the chip, which was on the standard chip that I rode down there on (Map 13/14).

On the way down the bike ran great, highway passing was a breeze, more than once I looked down after going around a car while still in 6th only to see me going close to 100 mph. After riding down, and getting run on the dyno, when I filled up on the way home, I'd averaged almost 43 mpg.
On the way home, I was hot, tired, late, hungry, and had a headache, traffic was really heavy for a lot of the ride, and I flogged it the 80 miles home, I was either stuck behind someone or I was going past them between 90 and 100 trying to get clear of traffic, Once clear of traffic, I'd fly until I caught the next group. I ran the whole way in 6th, never needed to downshift, just twist the throttle and go. It pulled clean and hard at 65mph, and I couldn't believe how hard it pulled over 125. But I couldn't tell if it was any better feeling than it was this morning, I'll have to ride it for a while and see.

Something to note, is that if the power peak was between his measure points, it never actually measured peak power.
(note: I only tested to 10k. Peak might have been 1 or 2 higher if I smacked it into the rev limiter, but I usually avoid that, unless necessary. Your bike was strong enough on top to more than prove the point - even below redline! Marc)


I want to thank Marc for all of his time today, and I highly recommend his tuning and chips, they make a noticeable difference in how my bike runs.

BTW, He now has the start of a map for a Mille with an Arrow Shotgun exhaust and a Evoluzione Air Filter.

Mike RSV R SN# 45

* List sponsored by Jack Lilley Ltd http://www.jacklilley.ltd.uk *
* RSV page and Mailing list options http://www.apriliaworld.com *
3 Factory Pro Gold EPROM AKRAPOVIC SO Tuning
Mille: AKRAPOVIC slipon / Evoluzione Air Filter 1
Subject: Factory, Inc. EPROM
Date: Sun, 8 Jul 2001 22:25:24 EDT
From: Locokeha@aol.com
To: rsv1000@apriliaworld.com
CC: factory2@ix.netcom.com


Marc Salvisberg, the dynamo man

Installed one of Marc's dual map EPROM's. The restricted map version is RSVZ6. The unrestricted map version is RSVZ13. The EPROM is shipped in antistatic foam and a box just bigger than the EPROM itself.
I placed the OEM EPROM back into this box which fits perfectly in front of the idle trim pots should I or a riding companion ever encounter a failure while riding.
Comments below are limited to the RSVZ13 map.

Map accessibility is via the derestrict lead. An open lead put you onto the meatier RSVZ13 map. You can install a switch in that line, an insulated male and female connector or just leave it cut and insulated. I installed a switch and friction fit it between one of the relays immediately behind the ECU and its rubber mounting boot.

The bike started immediately and settled into an idle. At 118~F the idle kicked up to 1550 RPM and remained there.
The idle knob had no influence in backing it down. Hooked up my carb stick and found the throttle bodies were still spot on. Began to trim the air bleed screws down in conjunction with the still active ECU trim pots.
Was also able to bring the idle adjustment back into play. Settled on a smooth idle at 1350RPM. This was done with the bike bouncing off the fan relay at 203~F. I rode the bike and found it was idling at 1250RPM and wasn't as smooth at its typical 165-170~F operating temperature. Came back and re-trimmed each trim pot approximately 20~ CCW. It settled back into a stable idle at 1250RPM.

Down low in the 3K - 5K RPM range the bike had always been reluctant. Throttle movements there traditionally greeted you with the familiar chunk-chunk-chunk shuddering and sluggishness.
I have stayed above this range for these reasons.
The shuddering is now gone with the lower end of the torque floor more visible. Throttle transitions are now clean.
I have a place to go now when the fuel light has been staring me down for 45 minutes or I encounter a Gold Wing moment.

The story of this chip is in the middle. The midrange from 5K to 7.5K has acquired a 4 cylinder feel and eagerness. The newfound smoothness caused me to initially overshoot some corners.
Power delivery is instantaneous and quite impressive.
The bike has lifted the front off a few third gear corners. The front is light all the time now under power. I set the steering dampener 1 notch firmer until I adjust to it. I'm already learning to do some corners in the middle of 4th gear instead of the upper end of 3rd. The reward has been higher entry speeds and more control while giving up almost nothing on the
exits.
3rd gear corner to corner work is now nothing short of exhilarating. The bike feels like it will punish ham fisted 3rd gear exits. Can't wait to get back to the Virginia International Raceway North Course on July 18th for Keith Code level 3. The entire track with the exception of turn 6 to turn 7 and the front straight in run in 3rd gear.

The midrange eagerness extends into the bottom of the 7.5K to 10K top end. Marc advised he made 1-3 HP gains up top.
The top feels less asthmatic. Nothing more to be said here.
Mille's aren't about top end. FWIW --- I hit 155 today at the end of a local straight that I'd never hit over 153 on before.

The leaner, more accurate mapping has caused the Akrapovic "can" to fall silent when feathered and to be more reserved the
rest of the time. The sootiness in the end of the can is reduced significantly.

Marc should be posting some plots after his return from Laguna Seca. The price for this chip was reasonable. After riding with it I would have paid more.

Factory can be reached at (415) 883-5620
or info@factorypro.com

Lou
00 RSV-R

DynamoHum...gotta.fortee.dollah.bill sezz.you.kaint.make.me.cum -- Frank Zappa
Factory Pro Gold EPROM - Falco
Subject: Falco chip
Date: Tue, 10 Jul 2001 11:34:40 -0400 (EDT)
From: Ken Lawas x2631 <kenneth.lawas@anxxog.com>
To: factory2@ix.netcom.com

Just a word of encouragement, my Falco and your chip just completed a track day at Loudon.
I don't think the R1's, 996's and even Mille's were turning their throttles all the way because it was so easy to get through them.

What a nice machine--two or three gears is all you need.

Ken
(Great! And thanks for the fine feedback!, Marc)
4 Factory Pro Gold EPROM Arrow Shotgun SO Tuning
Mille: Arrow slipon / Evoluzione Air Filter 4
Subject: Feedback 1 Mille Chip
Date: Tue, 3 Jul 2001 19:58:15 -0700
From: Andrew Tyldesley <tyldesley@axxle.com>
To: Marc Salvisberg <factory2@ix.netcom.com>

Hi Marc, this is the first chance I've gotten to give you some feedback from the track day last week.

The chip worked great. I was busy learning the Thunderhill track and overlooked trying the "restricted" map but the unrestricted was very good. The only thing amiss seamed to be a backfire sometimes after cutting the throttle and braking into corners. Otherwise I can't find anything to criticize.
(adjust idle trim pots to eliminate backfiring, Marc)

Relative to other Mille's blasting down the front and back straights mine seemed faster then most (all?) and it certainly wasn't because I was getting a better drive out of the corner nor was I drafting people. I would find myself frequently having to back off or risk running over people (people tended to drift around esp. when in when there was a few of them).

Anyhow, let me know if you have any questions. Brakes have been fixed by the way. Couldn't get PF pads in time so went with EBC-HH pads. Seem good so far.
(We'll get some Performance Friction in soon, Marc)

I'll try to stop by at Laguna but might not be able to because I probably won't buy a pit pass and they probably won't let me through.
Unless you have a spare... :-)

a.
Aprilia Tech Information:
Wire Harness Issues
2000 model RSV's seem to be prone to developing shorts in the wiring harness in the area of the stock ECU box. It would be a good idea to check the harness around the ECU, including under the box.
-----------------
Marc E. wrote:

I've recently saw on the list some people complaining about the wiring and the wires chafing and shorting out.
While I was doing the de-restrict thing, I pulled out the ECU from under the seat to do the wire thing properly and guess what?
There was already one wire that was worn right through and another on the way. This is with only 190 kilometers on the clock.
So I re-taped all the wiring from the tank back and added about 30 cable ties and fitted a rubber mat under the ECU that wraps around its sharp bottom edge to stop it cutting into the wires again.
I will inform the dealer to let him know what I've done.
Definitely worth checking and tidying up.
Regards,
Marc E.
*List sponsored by Jack Lilley Ltd http://www.jacklilley.ltd.uk *
* RSV page and Mailing list options http://www.apriliaworld.com *
---
Cam chain Tensioner Issue
Of all the Aprilia's out, this is the only sticky cam chain tensioner event that I've heard of. Really rare, is what I'm saying. The tensioner probably picked up up a bit of ?? from the oil and it prevented the oil pressure from supplying inward pressure on the tensioner allowing the cam chain to rattle about. Remove, clean and replace back in service. Pretty simple job and as far as reported, really rare in occurrence - but really scary loud! And if that does ever happen to your bike (Aprilia or other brand), you shouldn't really drive the bike until it's fixed!
Subject: Nasty Rattle
Date: Mon, 8 Jan 2001 13:06:47 +1100
From: Marc XXXXXX <Marc.XXXXX@aebishop.com>
Reply-To: rsv1000@apriliaworld.com
To: "'rsv1000@apriliaworld.com'" <rsv1000@apriliaworld.com>

G'day Paul
Saturday morning I rode the bike into work and it was rattling quite badly when I started it up. By the time I got to work it had a rattle that sounded like marbles in a tin can. It was really bad.
I was getting really worried by that stage so I put it in the ute and took it home.
I rang up a couple of Aprilia dealers who said the usual "were really busy, come in and leave it here and well look at it as soon as possible -- like in a week or two"
I took it to one dealer who said "that's terrible, I've never heard anything like it, DON'T RIDE IT"
Anyway I got it home and started pulling a few things apart.
Took the rocker covers off and found the front cylinder chain tensioner seized (was stuck) all the way out and the cam chain flapping around in the breeze.
Loosened the tensioner piston housing and it popped right out!!!
Looks like it was stuck for no particular reason, just cleaned it ( there was some debris in there ), oiled it, put it back in and reassembled the bike.
Runs smooth as a babies bum now, I'm wrapped and very pleased with myself.
Hopefully it will be ok now and stay like that.
The best part is not having to deal with the local dealers and have the bike off the road for a couple of weeks or more.
I won't be telling the dealers what I did for warranty issue's sake.
I told them this morning that its running fine, the noise miraculously disappeared :-)
Next Saturday --- Putty Road here I come.
See Ya
Marc X.

* List sponsored by Jack Lilley Ltd http://www.jacklilley.ltd.uk *
* RSV page and Mailing list options http://www.apriliaworld.com *

AMA Pro Roadracing
July 27-28, 2001
Brainerd, MN

AMA National Dirt Track!

Rider: Steve Johnson of Savage, MN
Rider: George Price of New Jersey
Bike: RSV1000 Mille
Bike: RSV1000 Mille
Sponsor: Delano Sport Center, Delano, MN
Sponsor: David Lloyd
Equipment:
Aprilia Race Exhaust System
K&N air filter
Factory Pro RSVZ1413 Pro Chip
Nutec Special 4 fuel

"Your Aprilia chip did help make the transition back on the gas easier - however, the chassis needs to work better.
I am currently exploring my options for a custom dirt track frame."
DAVID LLOYD dlloyd67@hotmail.com>

Finished an incredible 12th in Formula Extreme!

"Our Aprilia made history as the first Aprilia to make a US National Dirt Track main event!"

The RSVZ1413 chip (with pump fuel), that Delano "dropped" in typically adds an estimated 3-4 True HP to the Mille over other fuel mod systems.
After the first race and some testing, we subtly tweaked the map to run Nutec Special 4 fuel - adding even more power.
After the chip was installed, Steve could draft bikes that he couldn't draft before - about a 4-5 hp increase over the other fuel mod system and 21st in open Superbike!
"George Price from New Jersey rode the bike this past Saturday in Lima, Ohio and made the main even though the bike is still using the stock chassis!"
Tech
Checking the Throttle Position Potentiometer
up to 2001 models (at least), Mille and Falco (also called TPS (Throttle Position Sensor), or TPI (Throttle Position Indicator)

Power Supply to TPS:
1. Ignition

on


2. Measure between the terminals of the potentiometer.
3. Tester set on

VDC

4.5 - 5.5 VDC should be the supply voltage from the main wire harness.
Resistance between the two TPS terminals
Measurement "A" according to Aprilia Manual
1. Ignition

off


2. Sensor

unplugged

from main wire harness
3. Tester set on

OHM's


4. Sensor / throttle in closed position
sensor unplugged:


2.87k - 5.33k ohms

at rest
Resistance open and closed between TPS terminals
Measurement "B" according to Aprilia Manual
1. Ignition

off


2. Sensor

unplugged

from main wire harness
3. Tester set on

OHM's


4. Sensor / throttle in open position
sensor unplugged:
CLOSED throttle position:
.34k - 5.69k ohms
sensor unplugged:
OPEN throttle position:
2.87k -8.41k ohms
Standard values, according to manual....... are for the TPS to be removed completely and the furthest extremes of the TPS are explored and measured.
TPS relaxed and closed: <5.2k ohms
TPS fully twisted open: 3.34k - 8.88k ohms...
Which are slightly different from the above setting values.
If the installed TPS resistance values are reachable by simply shifting the TPS sensor, I don't think that it's necessary to remove the sensor completely to measure it. If you can't get the TPS to deliver the required resistance reading when installed, remove it and check the full range resistance to REALLY verify it's a really a REALLY bad sensor.
Marc
Links
---
Jan 15, 2001
Idle mixture screw adjustment enable, blue wire disconnected
Chip origin
Checksum
idle mix:
Cruise 3k
CO%
Cruise 4k
CO%
bike owner
RSVZ1413
xxxx
enabled!
smooth
smooth
many bikes
Arrow chip
.
not enabled
1.9%
slight rough
3.3%
slight rough
Andrew
A63KAT
7E93
enabled!
1.8%
2.4%
Andrew
SMRSV
9CA3
enabled!
1.9%
3.4%
Andrew
"Unrestricted wire"
Chip origin
Checksum
.
Cruise 3k
CO%
Cruise 4k
CO%
bike owner
RSVZ1413
xxxx
.
smooth
smooth
many bikes
Arrow chip
.
.
1.9%
slight rough
3.3%
slight rough
Andrew
A63KAT
7E93
.
1.8%
2.4%
Andrew
SMRSV
9CA3
.
1.9%
3.4%
Andrew
Early January, 2001
Marc S.
First Aprilia 4 Gas EC997 Dyno Test Session!
All stock exhaust, blue wire still attached, airbox derestricted.

With airbox only derestricted, stock air filter, stock exhaust, stock blue wire... a whopping.....
19 True HP improvement!
4 Gas Analysis shows at most all rpm steps:
CO% = probably slightly lean
O2% = not conclusive
CO2% = shows value that indicates "not optimum" mixture
HC ppm = either the cleanest engine that I've seen recently, or indicates slightly lean.
Conclusion: Somewhat lean on top with stock air filter, stock exhaust, blue wire still attached.
How lean? The equivalent of 1 to 1.5 main jets.
With Evoluzione Air Filter? The ECU maybe / maybe not / apparently/ looked like it reacted to decreased intake restriction by richening the fueling very, very slightly - less than 1/3 of a main jet. I can tell that it definitely didn't get leaner than the stock air filter by the 4 Gas and it DID make a bit more power - 1.5 to 2 True hp. If it was leaner than the stock air filter, since the stock air filter was already slightly too lean, with the additional air, had it had gotten any leaner, it would have lost power, not gained power. So, my initial response is that the Evoluzione Air Filter will be a winner in the accessory department.
The BMC filter that is available at this time (Jan 01), is a stock replacement air filter and did not increase power.
The K&N air filter didn't add significant power, either.
That leaves the Evoluzione as the winning True HP filter.

As far as the blue wire? The next set of tests will experiment with that.
My hypothesis is that - Hey! Wait a minute - I don't have any reason to make a groundless, non-fact backed up statement at this time - that's my story and I'm sticking to it! I know what I know and that's all that I know. :-) <that's a little smiley face, btw)
Cheers and all that! Stay tuned!
Marc S.
---
Toyota Paseo 1996 FPR
---
model

year
owner
mods
EC997 Eddy Current
True HP figures
dynojet
(note: load control and std dynojet dynos only measure hp under inertia)
Fuchs Inertia
Superflow
RSV 1000 Mille
RSV 1000
2000
Andrew
Arrow Shotgun
derestricted box
stock air filter
blue wire disc
Arrow chip
96.9 True HP
Test @Factory Pro Tuning Center #1
San Rafael, CA
est.
110-112 djhp
.
95.5 - 97.5 True HP
(aprox. True HP scale)
RSV 1000
2000
Sergio
stock exhaust
derestricted box
stock air filter
blue wire connect

91.9 True HP
Test @Factory Pro Tuning Center #1
San Rafael, CA
105.7 - 108.4 djhp
.
91 - 93 True HP
(aprox. True HP scale)
RSV 1000
not
specified
Herbert
Shark 2x carbon can
derestrict box
derestrict
101.5-103 True HP
(est. True HP scale)
119.5 djhp

.
101-104 True HP
(aprox. True HP scale)
RSV 1000
not
specified
James Itabashi
Arrow Shotgun
derestrict box
derestrict blue
Arrow chip
95.5-99.1 True HP
(est. True HP scale)
112.6 djhp

.
95-99 True HP
(aprox. True HP scale)
SL 1000 Falco
SL 1000
Falco
2000
Rod
derestricted airbox,
stock air filter
Renegade Shotgun exhaust
Renegade chip
95.5 @ 9k
True HP
(note: max power is at 10k indicated)
Test @ Wheelsmith
San Rafael, CA
est. djhp = xxx to xxx djhp
.
95-96 @ 9k
True HP
(est. True HP scale)
(note: max power is at 10k indicated)
SL 1000
Falco
2001 (MSO)
2000.5
(dealer)
Lawas, Ken
derestricted, stock air filter, RSC SL race mufflers, RSC chip
101.5 True HP
Test @Nault's Windham Hon/Kaw/Tri
est. djhp = 116.5 to 120 djhp
.
101-103 True HP
(est. True HP scale)
SL 1000
Falco
not
specified
Herbert
derestricted, no other mods listed
100-104 True HP
(est. True HP scale)

118 djhp

.
.
.
.
.
.
True HP * 1.15 to 1.18 = djhp at this power level
(True HP = djhp * .85 to .88 at this power level
.
.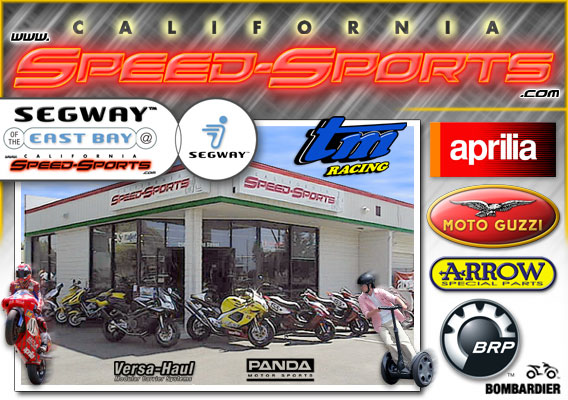 Absolutely NO carb parts sold in California.


New and improved Suzuki Teka SFI 2

with new TPS display and "MMT" Memory Module Tuner

Finally - Quick, easy, cost effective Suzuki tuning with no expensive "add-on boxes"
Suzuki cruisers and sportbikes

Contact Factory Pro
M-F, 9am - 5pm, Pacific time, -7 or -8 GMT

800 869-0497
USA and Canada

415 883-5620

parts information
info@factorypro.com

EC997 dynamometer information
info@factorypro.com

Product Support /Tech SECTION
click here

Mailing / Shipping address:



Factory Pro
101c Roblar Drive
Novato, CA
USA

And most importantly
Restart back at the HOME page and click on the red box in the top left to find the bike that you want parts for...
restart at HOME page

This Tuning Site has been visited by

people.
www.digits.net - the oldest counting service on the web

LINKS
EFI and Carb Tuning - Most all FI and carb tuning

by Wheelsmith Racing

Flight Training - train with AMA race winner Todd Harrington.



The Harringtons own

American Flyers

, one of the most established flight training facilities in the USA.

8 locations

800-362-0808
The Rich Oliver Mystery School will help you discover your hidden inner strength.
It will challenge you. It will teach you a new way of thinking, and a new way of riding. You can take your riding to an exciting new level!

We use a variety of proven drills and training techniques.
Practicing these techniques with our Yamaha dirt track trainers will enhance your abilities both on the track or the street.

It doesn't matter what you ride or race, the Rich Oliver Mystery School improves everyone's skill level and mindset!

WW2 vintage flying Special

Book a sightseeing flight over the Wine Country or a Kamikaze aerobatic flight or a biplane flight over famous Sonoma Raceway, the Golden Gate Bridge and the San Francisco Bay for one or two during the spring and get a free souvenir t shirt!
(NEW! Ask about the P-40 flights!)

707 938 2444

Just tell them that you saw this on the Factory Pro website!
Marc
Northern California's most unforgettable flying experience. No experience required. Open weekends!

The extension of the laboratory for engines of the Swiss Federal Institute of Technology was completed in about 1935. Its architect was Rudolf Otto Salvisberg (1882-1940). He had a successful career in Berlin but returned to Switzerland after the advent of the Nazis. His architectural style was somewhat similar to that of Erich Mendelsohn. The staircase of the laboratory is in normal use but well preserved.
Edited to the tunes of Chemical Residue by Herbie Hancock.