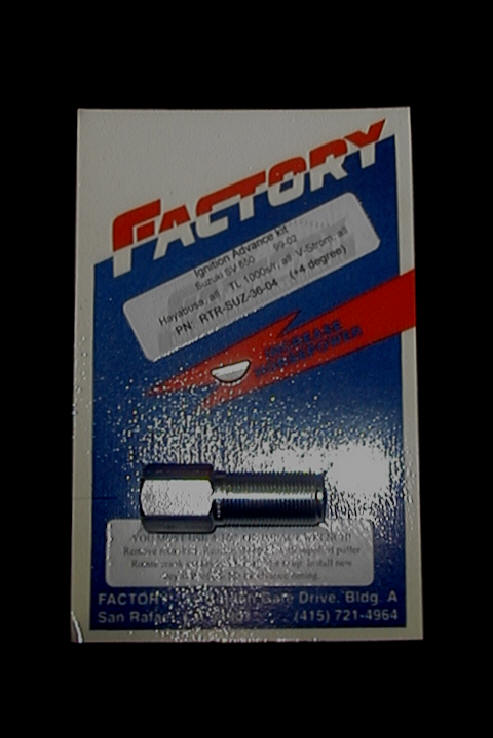 RTR-YAM-1-05 $89.95
Ignition Advance Kit - NOT for 250!
We do NOT NOT NOT NOT (not!) make an ignition advance kit for the RS / RGV250!
NOT! No!!
BUT!!!!
The RS / RGV 250's use a different flywheel puller than a fzr400 or fzr600 that only a dealer would have.
The woodruff key from the RTR-YAM-1-05 is the same key that fits the RGV 250.....
If you buy the RTR-YAM-1-05 kit, you can use the supplied woodruff key and the installation instructions for the fzr400 / 600...... and you'll have a nice fzr400 / 600 flywheel puller tool, too!
NO! You can't buy the key without the puller, I know you can't use the puller - but - as I said, I don't make an RGV 250 kit......
This IS the key to use for the RS and RGV's.
In the engines that I've tested, this advance kit's key will improve power by 1 to 2 TRUE hp (that's actually "loaded" EC997 dyno, "Rich Oliver" sort of power - (I don't know about mythical inertia dynojet hp).

It's specifically suggested to NOT use the RGV "Suzuki kit" computer in a high compression RGV engine, as the kit box has much too much advance at high rpm and, from one local customer's experience (yes, it's repeatable!) that a high compression 250 engine WILL detonate and seize or hole a piston at very high rpm when properly jetted........ every time, with the kit box installed......
Using the woodruff key advanced the timing for better power in a stock ish engine.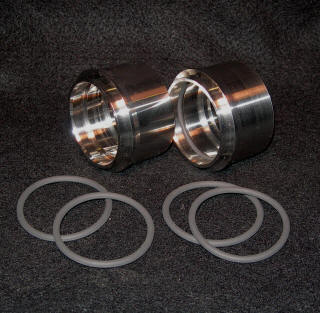 F-Pro Spigot Kit includes:

2ea 304 Factory Pro Super Seal Exhaust manifolds, Stainless Steel
4ea 39mm id x 3mm Viton o-rings
pn: EXH-AP20-SPI40SS
One of the hardest things to keep clean on your two stroke motorcycle is the exhaust flange / header pipe area. Two stroke oil always drools out and slowly bakes into an ugly, crusty mess.

One of the fastest ways to kill 250 high end power is to have leaky expansion chamber / stock exhaust headers - The pulsing pressure of a two stroke engine's exhaust is a major key in filling the cylinder to it's maximum - lose the pulse with a leak and "zippo"! - there goes your high rpm power.....

I bet you didn't know that Factory Pro started out in 2 strokes, did you!
We had the third fastest 350cc production RD350 on the West Coast in the early 80's. My current next door neighbor had the second fastest....... Also, that we held track records at Sears Point / Infineon Raceway. You may not have even known that Factory Pro EC997 dynos tuned (dynojet dynos don't work properly for 2 stokes) almost ALL of the AMA's 250GP bikes, including Rich Oliver's, and Roland Sand's tz250s, Chuck Sorensen's ex-factory Aprilia RS250, Simon Turner's TZ250 and John France's Honda RS250 and about 80% of the rest of the AMA guys, too.

Factory Pro / Marc Salvisberg designed these updated, all custom 304 Stainless steel manifold with super tight clearances keep the pipe from pivoting and rattling when revved and includes super sealing, tight fitting, replaceable, dual metric o-rings.

Fits like a tight glove for stock or aftermarket 40mm exhaust headers AND, since they are stainless steel, they will never be covered in rust. Uses all stock bolts, nuts and flat flanges.

These may fit some other bikes, so I gave some dimensions to check your app.
FPro SPIGOT ID:
for pipe fitting
40.25mm
So, it fits 40mm OD exhaust header with .25mm clearance
FPro SPIGOT OD:
49.6mm
your stock flat exhaust flange ID needs to be bigger than this
FPro SPIGOT Step OD:
where our spigot fits into the head
52.1mm
where the exhaust flange seats into the head. You could easily trim down the FPro spigot OD a bit, if necessary.