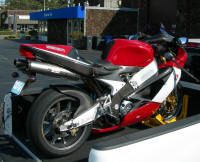 Rob Hardy's SB8r


MagMar Custom Tuning - email or call 800 869-0497
Marc Salvisberg
Weeks and weeks of work,
hours of telephone calls all over the world
uncountable emails and
many nights alone in the dyno room -
Factory Pro has finally cracked the mysteries of tuning Bimota's potent Magneti Marelli FI systems.
The Mag Mar FI system is the reason why the SB8r's Suzuki engine makes 10 to 15 more True HP than a TL with the stock Suzuki fuel injection system. The Magneti Marelli ECU is a wonderful system and can be custom tuned to greatly improve driveability and part throttle power.
If your SB8r has driveability problems, Factory Pro's San Rafael location can remap all of the internal maps in your SB8r.

Imagine pulling away from a stop at less than 2000 rpm
Imagine a smooth cruise in town - eliminate the surging and balkiness
Even decrease the starting backfire
Factory Pro can now custom tune the high performance Magneti Marelli fuel injection systems!


SHFT-EVO-S91
STAR, Arm, Spring, gasket
EVO-7 Detent Star Kit!
Includes Factory's AWESOME Detent Star - Totally changes the rough shifting the Suzuki "TL / SV's are known for into the sweetest shifting bike - The one you've always wanted!
Includes: Factory Pro designed, refined and manufactured DETENT STAR, Factory Pro Microbearing Detent Arm, heavy duty detent spring and gasket. Makes shifting quicker and more positive - "virtually" eliminating those nasty missed shifts. The stronger detent spring rotates the shift drum quicker, so the gears are more likely to engage under quick shift conditions - and "lazy" ones, too -
The Factory Pro Microbearing removes friction for the quickest shifting.
The closest to a "paddle shifter" for a motorcycle that you will ever find!!