SHFT-EVO-H45-STAR only
(upgrade to the Arm and Spring kit)

$139.95

crf250r 09-15

(replaces

24312-KRN-A30 star)
Ok I got it installed! Let me first off say that I do not work for the people that make the shift star or anything.

Now I didn't get a full days ride in but for the 45 minutes riding around on snowy icy roads it was everything they said it would be. Usually when on the icy snow when I'm shifting from first to second and the back wheel is still spinning it usually always would go right into neutral and VROOOOMMM. Now, every time, I mean every single time, no matter what rpm or load on the engine it goes so friggin smoothly into second it's onreal lol.

Now shifting in between all the other gears is such a positive with just one click and fully in gear. Before, idk if everyone experiences this but my 07 would like double click into gear and sometimes the shift lever would only go halfway up the shift stroke and not grab the second click. It's weird I know and definitely notchy from other dirt bike and quads I've ridden. I can definitely see the stock shift star wearing out shift dogs early from binding up and shifting halfway. The arm then clicks in each groove so the shift lever returns to middle stroke and is so beefier and with roller bearing. The whole shifting on my quad greatly improved to perfection. This thing should be included with an HRC kit - it's that's great. The price kinda sucks........ but I know for sure my trans is shifting perfect unlike before. I can't believe I'm the first to install one on the forum it blows my mind cuz it's that good.

Another thing before it was next to impossible once the motor warmed up to put the trans back into neutral without revving the motor up. Now I stop, shift to to neutral so simply and shut it off. It just bothers me the stock unit isn't like this. I bet there would be a far lot less worn out transmissions. I highly highly recommend this stupid shift star. Especially if you fear splitting cases like me.
F-Pro EVO Shift STAR


The Factory Pro EVO Shift STAR Upgrade kit will upgrade your bike to "better than new" quicker, more consistent shift action.

Proven in 15+ years of pro level use.

Virtually eliminate missed shifts.

Decreases shift process 5mm to 10ms

Make shifting MUCH quicker and virtually eliminate missed shifts.

Helps address missed shifts caused by poor shift detent "star" profile.
Helps prevent shift fork and gear engagement dog damage caused by missed shifts.

The Factory Pro Shift STAR, F-Pro Microbearing Detent Arm and F-Pro Spring are an awesome upgrade for the notchy, imprecise Honda shifting.

Installation: Slightly more complicated than replacing the clutch basket. It's right behind the clutch basket.


No case splitting required. Just R&R the clutch basket. Requires 1/2 impact wrench for the clutch nut.
Feedback

Shift Star kit worked awesome! Not one missed shift all weekend. Easier to find neutral, too - Which is good because I have to put it in neutral to start it for some reason. Doesn't like to start with the clutch in. With the close ratio tranny, I did a lot of shifting.

Leigh Thomas - Mojave area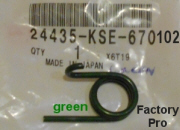 (sample stock spring)

F-Pro Comp Shift Spring
(replaces spring 24435-KSE-670)


crf250r 09-15
(use this spring with the arm and optional star)

z95-h45-0501
$39.95


F-Pro Comp Shift Spring

Slightly stronger detent arm spring for more secure and even quicker shifts
Addresses that popping out of gear in the air issue -
It's caused by the shift mechanism only rotating the shift drum halfway - the STAR, Arm and Spring help fix that problem.