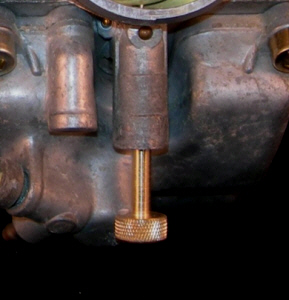 Long Boy Fuel Screw Kit
pn: 3020m1
replaces 13440181a
$44.95
with 2 new extended screws, springs, washers and o-rings.
"Long Boy"
Finger adjustable extended Fuel Screws
Frustrated with trying to find an "almost 90 degree" screwdriver to fine adjust your fuel screws for best idle and cruise?
Use Factory Pro's new "finger adjustable" fuel screws to adjust fuel screws for best throttle response. Traveling to high altitude? It's easy to lean out the lowend temporarily.
Make your life easier!
Installation:
Remove old short stock fuel screws, old o-rings, old washers and old spring. The o-ring might be stuck in the carb, so, take a light and make sure it's really out if it didn't come out with the screw (or you can't find it after you took out the screw)
Use a small bent wire to pull it out if it doesn't drop out. Keep the old parts for "spares".
Each screw assembly comes with:
2 Long Boy fuel screws
2 new o-rings
2 new washers
2 new springs

CRB-D15-1.1-TI $99.95


Carb Kit - Adds more low-end / midrange, if the proper main jet is selected, more top-end power. Easy to install and tune - no slide drilling.
Suggest using a BMC replacement air filter for increased airflow.
If your bike is running too rich at low rpm and cruise, order new Emulsion Tubes (needle jets) - below
you sent me (overnite, thank you very much!) the ducati 900ss kit last month with needle jets (I also sent you the pix of my naked ST with a factory pro jet kit) and jeee-zusss! It may as well be a new bike. Float levels were 2-3mm high and once adjusted and everything installed, the bike was perfect _ started immediately idles smoothly and pulls hard.
The owner used to wear a bandolier of fresh plugs cuz she'd replace em every 80 miles or fewer in the front cyl...your kit (and setting float levels) made a huge diff.
Thanks;
John Foyston
portland OR