Factorini Provente
Hybrid Ceramic Pro Shift Kit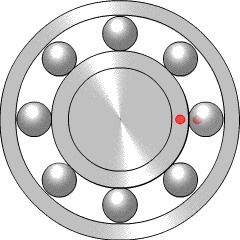 MotorcycleUSA 1198
"While Ducati has improved the transmission on the bike over the years, compared to its rivals, the bike has more throw and a notchier feel, Sorensen remarks...................... but when compared to the others it is not as slick and takes a good deal more effort"
Love the bike? Except for the shifting? Hard to find neutral?
The famous Factorini Provente Shift Kit is now available for the Ducati 1198.
Factorini Provente designed and manufactured a Microbearing Detent Arm and Factorini Provente designed Detent Spring will firm up the shift feel and virtually eliminates missed shifts - both upshifting and downshifting and neutral is easier to find.
Trackday and race bikes
Shifts quicker. Misses fewer shifts.
Perfect to install when working on the clutch.

Remove the clutch assembly, remove the RH engine cover - bolt in the kit.
Includes: Factorini Provente Microbearing Detent Arm and Factorini Provente Detent Spring.
(This kit does not include a clutch cover gasket)
Installation: Less than 2 hours to install with impact wrench and large socket set.
Note:
Quickshifters must be set 5-10ms quicker to compliment the quicker gearchange.

Can I install it myself? Yes - If you can remove the clutch assembly, you can do this.
.........................................
2010 Sept 16 Bob Hunter wrote
Good positive feel to all gears up and down, biggest improvement is selecting neutral, far better than stock.
I can highly recommend the upgrade.
Install pics, zip file for Jeremiah Knupp