CRB-H28-1.0
$139.95
Easy to install and tune - no slide drilling.
Adds more low-end / midrange, if the proper main jet is selected, more top-end power. Works well and pretty simple tuning is normal. Has enough different options to do most commercial aftermarket exhaust systems.
If I was a dealer, I'd stock this kit as it will tune for virtually any exhaust system.

If I was the owner / installer, this is the least problematic of the kits for this bike. This is the second jet kit that some people buy.

Customer feedback indicates that this kit is more and ultimately more than the "specially made for us / matched" kits that some exhaust system manufacturers sell as a package with their exhaust systems.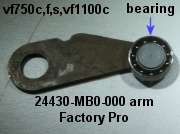 (actual Factory Pro arm shown)

The Microbearing Pro Shift Detent Arm
for

vf700 / 750c 82-88
vf750s 82-85
vf750f 83-84
vf1100c 83-86

SHFT-ARM-MB0-REBUILD $89.95

24430-MB0-000 microbearing Detent arm

415 883-5620


NOTE! The stock arm is no longer available from Honda. You need to supply an arm for us to modify. It's POSSIBLE that we may have a used core to modify - The core charge for a used arm is $40 - IF WE CAN FIND ONE. Call 415 883-5620
to see if we have one in stock.
Microbearing Detent arm
(custom rebuild)
Help eliminate missed shifts - Shifts quicker - especially 2nd gear. A "tap" on the shifter and it's in the next gear.
Who else but Factory Pro would continue to support the AHRMA classics? Making them as good as new bikes and making the new bikes, even better! Used by Pete Hockenstat.
Make shifting quicker and virtually eliminate missed shifts. Helps address missed shifts caused by old, weak and worn, high friction.
................................................................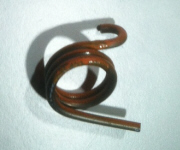 (actual spring)

The F-Pro Shift Spring for

vf750c 82-88
vf750s 82-85
vf750f 83-84
vf1000 84-88
vf1100 83-86
replaces oem Honda: 24435-MB0-000

F-Pro: z95-MB0-0590 $39.95
F-Pro Shift Spring
Best used with the above arm.
Help eliminate missed shifts.