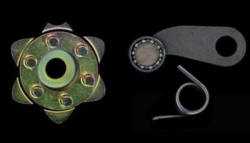 SHFT-EVO-HON-21/cb500-94-08

$239.95
(star, arm and spring kit)
rpl 24315-MV9-932 star, 24430-mw0-000 and 24435-my5-600
Add $20 for Hybrid Ceramic Microbearing
Factory Pro's
Shift STAR
THE ULTIMATE IN SHIFTING Precision
(star, arm and spring kit)

Make shifting MUCH quicker and virtually eliminate missed shifts. Helps address missed shifts caused by poor shift detent "star" profile. MUCH more consistent shifting!
Not at liberty to disclose WHO used this kit on their F4's.........
Note! The H21 kit does not include a gasket for the F4i - You will need to supply your own clutch cover gasket.
User's comments
NOTE: Quickshifters must decrease shift kill time by aprox. 10ms.

SHFT-PRO-HON-500-94-08
$139.95
(semi custom kit - allow 2-3 weeks extra)

(includes steel microbearing detent arm and spring)

rpl 24430-mw0-000 and 24435-my5-600
clutch cover gasket not included
Add $20 for Hybrid Ceramic Microbearing
How to help give the 500 silky, distinct shifting.

Some cb500s have rather notchy shifting and hard to find neutral - this kit will help improve that.

The world famous "MicroBearing detent arm and a spring" PRO Shift kit
Includes the Factory Pro Microbearing Detent Arm and Factory Pro shift spring.
Improves the lazy shifting.
Makes shifting EASIER and quicker and virtually eliminate missed shifts. Helps that 1-2 shift and false neutrals.
Shifts more consistently and helps prevent missed shifts (which damage shift forks and engagement dogs)
Installation
1-2 hours, no case splitting required
Arm and spring sits right behind the clutch basket.
.......................
Feedback
.............. I decided to take the cover off once more and check everything. I confirmed once more that the arm was working right, but then I took off that center piece with the little plates and springs and pistons. I think something there must have been backwards because when I put it all back in again it seemed tighter and more "right". After reinstalling the cover the bike would shift to all gears while turning the back wheel. Put oil back in and fired her up, went on a test drive, all is groovy. Shifting like a million bucks. No crunch! Tight and fast. Thank you!

David Poag

24315-MV9-932