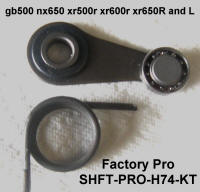 gb500 89-90
xr500r 83-84
xr600r 83-00
nx650 88-89
xr650l 93-13

replaces oem 24430-MG3-000 arm and 24435-MG3-010 spring


SHFT-PRO-H74-KT $139.95


F-Pro Microbearing Detent arm and F-Pro z95-h74 shift spring

(does not include clutch cover gasket)

(415) 883-5620



Virtually eliminate Missed Shifts

Imagine being able to find neutral easier

Make that downshift on that nasty uphill instead of finding a false neutral.


Help prevent damage to shift forks and gear engagement dogs caused by
the mechanical shock of missed shifts.

Make this big Honda single shift loads better with an hour's worth of labor.

The F-Pro Microbearing Shift Detent Arm and F-Pro Shift Spring will improve shifting and virtually eliminate missed shifts for less than $100.

The problem with the transmission is that there is too much friction involved in the rotation of the shift drum. The shift mechanism is just too slow - causing missed shifts, especially 1st to 2nd and false neutrals.

The F-Pro microbearing arm decreases the friction, makes the shift drum rotate quicker and into the full shift gear position in less time - helping prevent missed shifts.
Each missed shift stresses the gear engagement dogs and slots, bends shift forks and otherwise causes extreme shock loading to the entire drivetrain. In other words, "breaking things".


This kit will not fix a broken transmission. This kit will help prevent damage to a good transmission caused by missed shifts - helping a good transmission stay "good".
If the shift forks are already bent and the gear engagement dogs are already rounded, it's too late - and just split the cases and replace the forks and gears.

This is a Factory Pro "Pro Shift Kit" and includes the "Proven by" well, I can't tell you because they asked me to not tell, Factory Pro Microbearing Detent Arm and F-Pro spring.

Does not include the clutch cover gasket
(usually required unless you are extremely lucky - but it usually breaks by the lower, left case studs

Takes .5 to 1 hour of actual work and attention to install.

No case splitting required.
Does not even require clutch basket removal.

To install the arm and spring, it requires removal of the right footpeg, oil line, oil filter and clutch cover, etc. - then the detent arm and spring are accessible, just below the clutch basket. Clutch basket does not have to be removed.
There are important washers, important dowel pins and such that need to be kept track of, so, make sure you have a Honda Service manual before removing the clutch cover.
We don't supply installation instructions, and the Honda Service manual is your best friend.

Call 415 491 5920 or 415 472 4962 for install help.
Virtually eliminate missed shifts - Make shifting smoother and better than some new bikes.

We specially make a Microbearing Pro Shift Kit for the models listed to the left.

Includes:
F-Pro Microbearing Detent Arm
F-Pro Detent Spring
DOES NOT include shift cover gasket

1-2 hours to install - it's under the clutch cover.




MG3 replacement arm and spring