CRB-H73-1.1-TI Ti Pro Kit

xr400r 96-04
$79.95
1. Choose your shipping method
2.

Contains: both 58 and 60 pilot jets.
145, 150, 155, 158, 160, 162 (stock) and 165 main jets.


Almost a year and a half after the XR400r came out -
The local Marin County XR400r hot shoe finally had had enough of his almost weekly trips during the riding season, down to our little retail shop getting, yet another, pilot jet, main jet, air jet, shim for the next "SECRET, FOOLPROOF, MAGIC ELIXIR" jetting combination from, yet another exhaust system company or another engine builder or another hot shoe........ Maybe he was tired of me razzing him a bit, too. Well, what do you expect? He kept asking me what I would do and I kept telling him (very humbly, as I remember.... :-) that I'd tuned loads of offroad bikes and I would probably run the bike on our 4 Gas EGA eddy current EC997 dyno and figure it out instead of throwing what somebody else said "worked" at my bike.
A month later he finally gave up and dropped the bike of with the stock and aftermarket exhaust. He was suspicious because a lot of the "MAGIC" jet combinations were supplied by exhaust system companies that used to use a Dynojet dyno. And a dyno is a dyno? Isn't it? That's what "they" said, anyway.....
No. Dealership level dynos, that "tune to an af ratio", like the dynojet, seem to be designed to sell products and show a hp improvement and not to derive perfect tuning - And looking at the fact that they've sold about 10x the number of dynos that we have sold, that might say that 9 out of 10 dyno owners might want to sell "stuff" and be done with it. I do think that there's a few of the 9 who "thought" that they were buying a research quality dyno when they bought the dynojet - but, now they've got $30,000+ invested... and "we don't make $30,000 mistakes", do we?
Anyway, my Saturday rambling cut short...... We did 8 dyno runs. Made a new needle.
4 runs with the stock muffler and dialed in the jetting for the spark arrester muffler - full and part throttle and 4 runs with the comp exhaust. Full and part throttle.
Gave him the bike back.
He's happy at last.
And wondering about all the other dyno jetted spec guys.......
It's the dyno. Factory Pro EC997.
The official dyno of F-USA.
Easy to install and tune - no slide drilling!
Adds more low-end / midrange, if the proper main jet is selected, more top-end power.
This is one of the kits that we made our reputation on.
Includes a selection of main jets, pilot jet and the "secret" Factory Pro needle!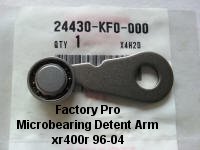 (sample pic only)



Hybrid Ceramic


Microbearing detent arm

xr350r 83-85
xl350r 84-85
and xr400r 96-04
(replaces 24430-KF0-000 stock arm)

$89.95




F-Pro
Low Friction Microbearing Detent Arm

Hybrid Ceramic Microbearing

Make shifting quicker and virtually eliminate missed shifts.

Use with F-Pro Shift Spring.

Helps address missed shifts caused by excess friction of the riveted disc on the stock detent arm.

1-2 hours to install - arm sits under the clutch basket.

User's comments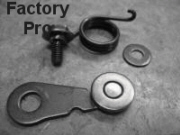 (pic of stock parts)