cbr600rr 03-06 Superflare Stacks

The new Factory Pro 07-14 stacks will now backdate to the earlier 03-06 cbr600rr

(the old Factory Pro part number was "H85" and older H85's will not fit the 07-14)
Boosted a bit of mid,
1-3 in the upper mid, Revs higher with more power.
2-3 at peak and
extends the peak rpm 700 to 1000 rpm higher, where it's 3-4 hp stronger at 14.5k rpm than stock stacks

when measured under loaded dyno testing conditions on a bike with stock cam timing
Generally, we don't usually remap the FI when doing stack design, preferring to design stacks that improve power without creating humps and hollows in the fuel delivery curve.
The Factory pro Stack advantages are better average upper midrange and the addition of a "triangle of high rpm power" (that wasn't there before). Instead of power dropping off just over 14k and shifting at about 14.3k, now, you have an extra 700 - 1000 rpm of increased powerband and better peak power that wasn't there before.
The base test and the R&D final testing was done on the same day with a BMC Race filter (as I think that just about everyone is using one). The stack power results should be the same powerband peak power differences with stock, stock w/ screen removed, K&N, Pipercross, Uni air filters.
Uses all stock mounting screws and air filter access is retained.
NOTE! The below hp figures are TRUE HP Scale
for Dynojet HP: multiply True HP x 1.1 to 1.5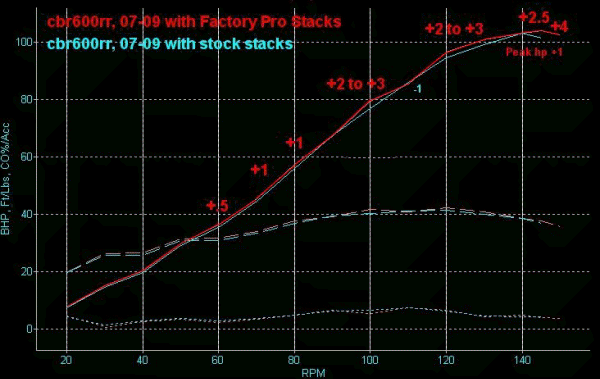 NOTE! The above hp figures are TRUE HP Scale
for Dynojet HP: multiply True HP x 1.1 to 1.5
"True" and "Effective" hp doesn't change........ wandering "standards" do.
http://en.wikipedia.org/wiki/Horsepower