Performance Products For Harley Davidson

Factory produces the Ti ProKit (tm) series of Carb Recalibration Kit for the Harley Davidson.

All products designed using EC997 Eddy Current Dynamometers.
NO dealership level dynos were used in the developed

Factory designed Titanium needle (unaffected by unleaded fuel and never wears out!)
Genuine Factory 393k series or Keihin pilot and main jets - because just ok quality is just not good enough.
No Slide Drilling!
Designed properly - so mileage is not decreased drastically - doesn't require accel. pump tomfoolery!
Designed properly - so the Factory Pro HD kits, at only $89.95 per kit (including pilot jets and a large selection of main jets and a "Ti" needle) performs, over the full operating range, smoother and more efficiently than other jet systems (even the $150 ones).
Featuring
Finger and screwdriver adjustable fuel mixture screw kit



Long Boy Extended Fuel Screw
$22.95
pn: CRZ-SCR-3518k2
with new extended screws, springs, washers and o-rings




"Long Boy"
Finger and screwdriver adjustable extended Fuel Screw assembly

Frustrated with trying to find an "almost 90 degree" screwdriver to fine adjust your fuel screw for best idle and cruise?
Use Factory Pro's new "finger adjustable" fuel screw to adjust fuel screw for best throttle response. Traveling to high altitude? It's easy to lean out the lowend temporarily.

Make your life easier.

Installation:
Remove old short stock fuel screw, old o-ring, old washer and old spring. The o-ring might be stuck in the carb, so take a light and make sure it's really out (or you can't find it after you took out the screw)
Use a small bent wire to pull it out if it doesn't drop out. Keep the old parts for "spares".

Screw assembly kit comes with:
new extended screws
new springs
new washers
new o-rings

Harley Davidson Carb Recalibration Kit Selection


CRB-HD08-1.1-TI

$89.95

883/1200 Sportster, all years

CRB-HD08-1.1-TI..........Ti ProKit Carb Recal Kit
AMA Pro Thunder Race winning Performance - over thunder slides and power tubes!

Most excellent street manners.


CRB-HD13-1.1-TI

Internet Special
$89.95

CRB-HD13-1.1-TI..........1340cc, to 95

Ti ProKit Carb Recal Kit

Factory Pro's Ti ProKits are the accepted standard in jet kit quality.

Titanium needle for the ultimate.


CRB-HD14-1.1-TI

1340cc, 96-97

$89.95

CRB-HD14-1.1-TI..........Ti ProKit Carb Recal Kit

Factory Pro's Ti ProKits are the accepted standard in jet kit quality.

Titanium needle for the ultimate.
Smooth and responsive! Factory Ti ProKit Carb Recalibration kits go in and work - consistently from bike to bike. Easy to dial in. Factory's Pro's extremely intense involvement in professional racing programs, including Bartel's David Estok's Road America Track Record-setting Twinsports 883 Sportster and Shawn Higbee's Pro Thunder Buell gives us the experience to design carb recal kits that deliver maximum low-end and midrange without sacrificing ANY top-end power!
---
Tech
Float Height:

When trying to lean out the full throttle / low rpm area.

13mm is too low to use.

The pilot jet gets exposed to air at high rpm / full throttle at 13mm.
There are other issues, but they are beyond the scope of most readers.
If you have an EC997 dyno, you can see what they are.


11mm works. 10mm, 12mm works.


Note:

The float bowl does NOT run out of fuel if the float height / fuel level is lowered - When the engine is pulling max fuel, the fuel level in the carb drops, usually, 1mm-2mm and then stabilizes.
If the float bowl were to actually "run out" of fuel - it would mean that ANY float height setting would eventually run out of fuel if you held the throttle on long enough.

The best way to test that is to use an EC997 dyno and do a LONG full throttle / high rpm test for 6-10 seconds (usual is 2-4 seconds) and watch the 4 gas EGA trace and see if it leans out or not.

True Rear Wheel Horsepower® Factory EC997a Eddy Current Dynamometer
More HD information
http://en.wikipedia.org/wiki/Harley-Davidson
OK - I got tired of looking up cam specs, so here's a page from Andrew's 206 catalog
Do NOT use this chart as the last word in Andrew's cam specs - Always visit their website to get their latest information.
http://www.andrews-products.com/motorcycle/cams/twin_88_GEAR_DRIVE.htm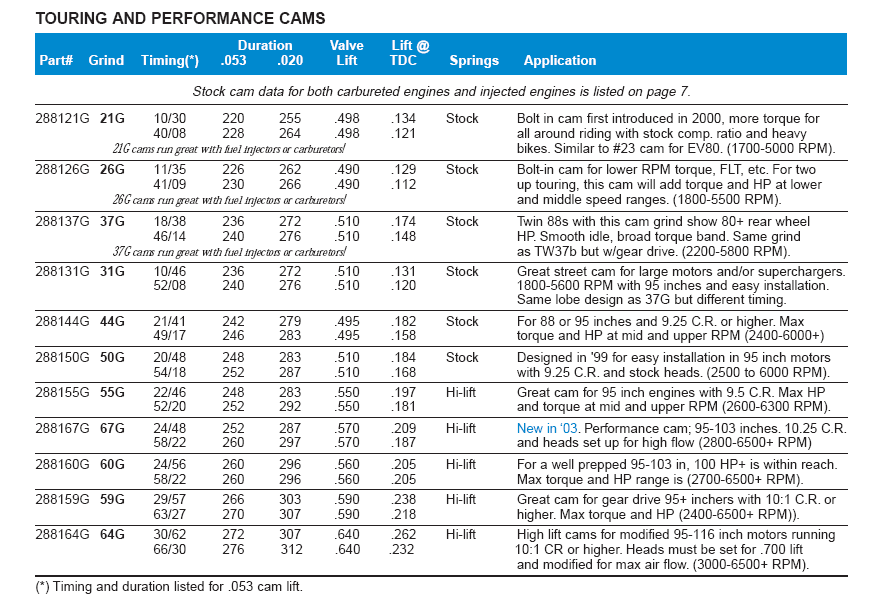 Big Boyz' HD Cam Specs and other HD related online calculators - click here
Big Boyz uses the Factory Pro EC997 dynamometer for highest quality tuning results!
Absolutely NO carb parts sold in California.


New and improved Suzuki Teka SFI 2

with new TPS display and "MMT" Memory Module Tuner

Finally - Quick, easy, cost effective Suzuki tuning with no expensive "add-on boxes"
Suzuki cruisers and sportbikes

Contact Factory Pro
M-F, 9am - 5pm, Pacific time, -7 or -8 GMT

800 869-0497
USA and Canada

415 883-5620

parts information
info@factorypro.com

EC997 dynamometer information
info@factorypro.com

Product Support /Tech SECTION
click here

Mailing / Shipping address:



Factory Pro
101c Roblar Drive
Novato, CA
USA

And most importantly
Restart back at the HOME page and click on the red box in the top left to find the bike that you want parts for...
restart at HOME page

This Tuning Site has been visited by

people.
www.digits.net - the oldest counting service on the web

LINKS
EFI and Carb Tuning - Most all FI and carb tuning

by Wheelsmith Racing

Flight Training - train with AMA race winner Todd Harrington.



The Harringtons own

American Flyers

, one of the most established flight training facilities in the USA.

8 locations

800-362-0808
The Rich Oliver Mystery School will help you discover your hidden inner strength.
It will challenge you. It will teach you a new way of thinking, and a new way of riding. You can take your riding to an exciting new level!

We use a variety of proven drills and training techniques.
Practicing these techniques with our Yamaha dirt track trainers will enhance your abilities both on the track or the street.

It doesn't matter what you ride or race, the Rich Oliver Mystery School improves everyone's skill level and mindset!

WW2 vintage flying Special

Book a sightseeing flight over the Wine Country or a Kamikaze aerobatic flight or a biplane flight over famous Sonoma Raceway, the Golden Gate Bridge and the San Francisco Bay for one or two during the spring and get a free souvenir t shirt!
(NEW! Ask about the P-40 flights!)

707 938 2444

Just tell them that you saw this on the Factory Pro website!
Marc
Northern California's most unforgettable flying experience. No experience required. Open weekends!

The extension of the laboratory for engines of the Swiss Federal Institute of Technology was completed in about 1935. Its architect was Rudolf Otto Salvisberg (1882-1940). He had a successful career in Berlin but returned to Switzerland after the advent of the Nazis. His architectural style was somewhat similar to that of Erich Mendelsohn. The staircase of the laboratory is in normal use but well preserved.
Edited to the tunes of Chemical Residue by Herbie Hancock.