94-14 KLX250
00-10 KL250
inc. Super Sherpa

replaces oem: 13236-1209 - check your bike's orig part number.

F-Pro Microbearing Shift Detent Arm
(in stock - no core charge)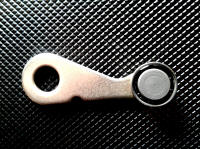 SHFT-PRO-K03-arm $69.95

(installed and tested on 2012 250 with excellent shifting results)

SUPER GREAT,BETTER SHIFTING,THANKS ktmchazb

Shifting is way more positive even when downshifting. Shifting is like a KX250 now.
I took my time installing it and it took about 2 hours. The hardest part was getting it behind the spring but with the change in shifting, it was worth the trouble.
I could change the next one in an hour.
Charlie Burk
Flora, IL


Shift Detent Arm Kit - fix nasty 250 / 300 shifting.

SUPER GREAT,BETTER SHIFTING,THANKS ktmchazb

This is not a "kit" to modify your arm, it's a 100% new arm -
no user grinding, no user drilling, no user machining

"Virtually Eliminate missed shifts"

klx250's have notoriously poor shifting and can use a kit to help them not miss shifts -
Each missed shift stresses the gear engagement dogs and slots, bends shift forks and otherwise causes extreme shock loading to the entire drivetrain.

This kit includes the Factory Pro Microbearing Detent Arm. Does not include shift mechanism cover gasket. 1-2 hours to install. Requires that the chain and sprocket and shift mechanism cover be removed and replaced.
No case splitting required.
Suggest both this spring and the arm, but the arm alone will help.


................................................................................................

extra development notes (for me...Marc)
errata
13236-1209 LEVER-COMP,NEUTRAL

FP Detent Arm fits these models:

94-97 KLX250-D2 KLX250R
00-03 KL250-G4 Super Sherpa
2004 KL250-G8 CANADA ONLY 00-03
KL250-G4 Super Sherpa
KLX250S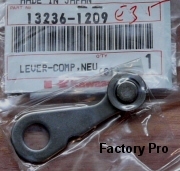 (stock arm)