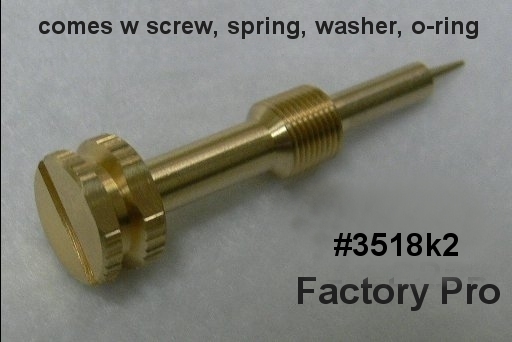 Long Boy Extended Fuel Screw
$19.95
pn: CRZ-SCR-3518k2
with 1 new screw, spring, washer and o-ring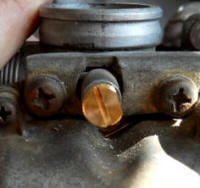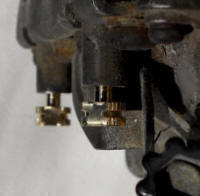 "Long Boy"
Finger adjustable and screwdriver extended Fuel Screw assembly
Frustrated with trying to find an "almost 90 degree" screwdriver to fine adjust your fuel screw for best idle and cruise?
Use Factory Pro's new "finger adjustable" fuel screw to adjust fuel screw for best throttle response. Traveling to high altitude? It's easy to lean out the lowend temporarily.
Make your life easier.
Installation:
Remove old short stock fuel screw, old o-ring, old washer and old spring. The o-ring might be stuck in the carb, so take a light and make sure it's really out (or you can't find it after you took out the screw)
Use a small bent wire to pull it out if it doesn't drop out. Keep the old parts for "spares".
Each Screw assembly kit comes with:
1 long Boy Extended Fuel Screw
1 new spring
1 new washer
1 new o-ring
Note!
Australian 2012 klx250's have a water hose for warming the carb fuel for start emissions.
Need to rotate that squeeze hose clamp - It's a tight fit with the screw.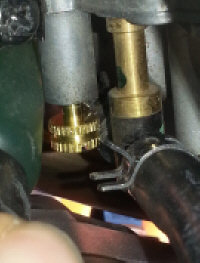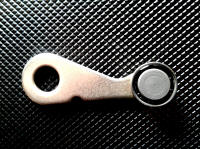 06-14 KLX250s Shift Detent Arm $69.95

(in stock)

SHFT-ARM-K03


(installed and tested on a 2012 250 with excellent results)
Microbearing Detent Arm


"Virtually Eliminate missed shifts"


SUPER GREAT,BETTER SHIFTING, THANKS ktmchazb
klx250's have notoriously poor shifting and can use a kit to help them not miss shifts -
Each missed shift stresses the gear engagement dogs and slots, bends shift forks and otherwise causes extreme shock loading to the entire drivetrain.


This kit includes the Factory Pro Microbearing Detent Arm. Does not include shift mechanism cover gasket. 1-2 hours to install. Requires that the chain and sprocket and shift mechanism cover be removed and replaced.
No case splitting required.
................................................................................................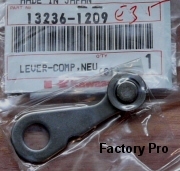 (stock arm)

extra development notes (for me...Marc)
errata
92144-1695 SPRING
2006 KLX250H6F KLX250S
2007 KLX250H7F KLX250S
2009 KLX250T9F KLX250S
2009 KLX250W9F KLX250SF
2010 KLX250TAF KLX250S
2010 KLX250WAF KLX250SF
2011 KLX250TBF CANADA ONLY
2012 KLX250TCF KLX250S

errata
13236-1209 LEVER-COMP,NEUTRAL
FP Detent Arm may also may fit these models:

1990 ZX600-D1 Ninja ZX-6

1991 ZX600-D2 Ninja ZX-6

1992 ZX600-D3 Ninja ZX-6

1993 ZX600-D4 Ninja ZX-6
1993 ZX600-E1 Ninja ZX-6

1994 KLX250-D2 KLX250R
1994 ZX600-E2 Ninja ZX-6

1995 KLX250-D3 KLX250R
1995 ZX600-E3 Ninja ZX-6

1996 KLX250-D4 KLX250R
1996 ZX600-E4 Ninja ZX-6

1997 KLX300-A2 KLX300R
1997 ZX600-E5 Ninja ZX-6

1998 KLX300-A3 KLX300R
1998 ZX600-E6 Ninja ZX-6

1999 KLX300-A4 KLX300R
1999 ZX600-E7 Ninja ZX-6

2000 KL250-G4 Super Sherpa
2000 KLX300-A5 KLX300R
2000 ZX600-E8 Ninja ZX-6

2001 KL250-G5 Super Sherpa
2001 KLX300-A6 KLX300R
2001 ZX600-E9 Ninja ZX-6

2002 KL250-G6 Super Sherpa
2002 KL250-G6 Super Sherpa
2002 KLX300-A7 KLX300R
2002 ZX600-E10 Ninja ZX-6

2003 KL250-G7 Super Sherpa
2003 KLX300-A8 KLX300R
2003 ZX600-E11 ZZR600

2004 KL250-G8 CANADA ONLY
2004 KLX300-A9 KLX300R
2004 ZX600-E12 ZZR600

2005 KLX300-A10 KLX300R
2005 ZX600-E13 CANADA ONLY

2006 KLX250H6F KLX250S
2006 KLX300A6F KLX300R

2007 KLX250H7F KLX250S
2007 KLX300A7F KLX300R

2009 KL250G9F Super Sherpa
2009 KLX250T9F KLX250S
2009 KLX250W9F KLX250SF

2010 KL250GAF CANADA ONLY
2010 KLX250TAF KLX250S
2010 KLX250WAF KLX250SF

2011 KLX250TBF CANADA ONLY

2012 KLX250TCF KLX250S

CRB-K03-1.0
(KLX250, 09-14)
INTRO SPECIAL $59.95
(regular $69.95)
fits 09-14 S and 09-10 SF
You think that off road CV carbs always have a "bog"?
Not if they are tuned correctly.
We use the (apparently) industry exclusive EC997 development dyno with the integrated 5 gas EGA for development - not a dealership level "tune to an AFR" dyno. We get the most gas and power information as we can possibly get when designing new carb kits. That's probably why Factory Pro carb kits were the overwhelming choice of AMA Pro roadrace teams in the last days of street carbs. (the experience and knowledge gained transfers nicely into the off road market)
Standard drop-in kit, using the stock airbox, with or without the snorkel, and stock, K&N or UNI type stock replacement air filter. The kit has enough jets to use with an aftermarket "street" or "race" exhaust - and also, the stock exhaust.
No slide drilling is required.
inc: pilot jet, main jets, Celmat30 needle, extra clips, shims, float bowl allen screws, etc.
Like our other 250 kits, it's a Best Buy.
09-14: Keihin CVK34, EF carb, 35 pilot jet, NNLA needle, 118 mj
11-12: Keihin CVK34, EF,