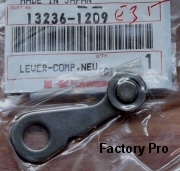 ZX6d/e, 90-05

Shift Detent Arm Kit
(now in stock - no more core charge)

SHFT-ARM-K03 $89.95


SUPER GREAT,BETTER SHIFTING,THANKS ktmchazb

Shifting is way more positive even when downshifting. Shifting is like a KX250 now.
I took my time installing it and it took about 2 hours. The hardest part was getting it behind the spring but with the change in shifting, it was worth the trouble.
I could change the next one in an hour.
Charlie Burk
Flora, IL


Pro Shift Detent Arm

SUPER GREAT,BETTER SHIFTING,THANKS ktmchazb

installed and works great. Adam Geraldson, Missoula, MT
This is a 100% NEW Factory Pro arm - not a modification kit.
"Virtually Eliminate missed shifts"

zx6d and e's can use a kit to help them not miss shifts -
Each missed shift stresses the gear engagement dogs and slots, bends shift forks and otherwise causes extreme shock loading to the entire drivetrain.

This kit includes the Factory Pro Microbearing Detent Arm. Does not include shift mechanism cover gasket.
1-2 hours to install.
Requires that the clutch basket be removed and replaced.
No case splitting required.




CRB-K12-1.0 $139.95
Best "drop-in" carb kit. Boosts power a bit at full throttle, improves throttle response and wheelie ability. Definitely pulls harder out of 2nd and 3rd gear corners.
Does NOT require slide drilling!

RTR-KAW-6 (+04 deg)
Ignition Advance Rotor. Fits both the D and E models.
Adds power at ALL part throttle positions. That equates to more "snap" in throttle response for you! Increases top-end power on most bikes.





TL-float height gauge $59.95
The easiest way to set float height - important when tuning low-end and cruise mixture rates.
More information on float height / fuel level importance- click here.