Feedback 2002 ZX9 w/ stock exhaust
Subject: WOW!
Sender: Neal Shadden
Date: 10/01/02
Hi Marc,
Wheelie Neal from Georgia here.~
No comparison between your jetting and the Flow Commander.
It took me 2 tries to get the float height correct, but... AWESOME improvement!
My 2002 ZX-9R with stock filter and pipe has been transformed into a smooth Rocket.
I installed your 1.1 Ti Kit with 6 degree advancer.
I am exactly as you suggest except I'm at 1.5 turns out on the air screws instead of 2.5. ( I'm still experimenting here). ~
~I celebrated this tuning with a 420 mile day tour into North Carolina, Tennessee, and back to Georgia. I could never have ridden it that far stock, because the vibration put my hands to sleep.
The vibration is almost completely gone now, like it's a different bike.
This trip included a run on Deal's Gap- the infamous "Dragons Tail" - 318 curves in 11.8 miles.
I could pull 2nd gear smooth from 15 to 90+ mph! By the way, I used some block nose Snap-On pliers to wiggle the Flow Commander fittings out of the Main Air circuits. I hope you will market fuel injection maps for injected bikes that you have been developed on your dyno! ( I've got my eye on the 2003 GSXR 1000). Will the "TEKA" program a bike without a "power commander" type device in place? Well, I've taken too much of your valuable time, but feel free to use any or all of this letter as you see fit. Plan on riding with "Wheelie" after the Big Kahuna in 2003.
Your grateful friend-
Wheelie Neal


completion date: 04/22/2000
Feedback
Subject: Bigtime Praise
Date: Fri, 23 Mar 2001 14:27:13 -0800 (PST)
From: bob lenart <oneplusgman@yahoo.com>
To:

info@factorypro.com



Marc
I'm writing this e-mail to let you know how pleased I am with the CRB-K88-1.7-RK race jet kit for my 2000 ZX-9R. I have been synchronizing my carbs at least every other week trying to get rid of the cruise surge.
After talking with you on the phone, the kit sounded like the answer. I am a mountain rider and can care less about 10K+ RPM figures, all my kneedragging is done around 6K, right where the ZX-9R is known to have a throttle glitch, my engine is stock, my pipe is stock and so is my intake and air cleaner. I like the way it sounds, (QUIET) So for all the ZX-9R owners who don't want to change out the aforementioned parts, this kit is the answer.

Here are my final settings;

The air injection was removed and a 4 inch piece of 1/2 inch copper pipe was used between the fittings on the valve cover.

I used the #40 pilot jets you supplied, #170 main jets on 1 & 4 and #172 main jets on 2 & 3. I fashioned a float gauge from some heavy paper board to straddle the carb and ensure a perfect setting of 4mm.

I used a "PIN VISE" from the local hobby shop to drill out the air jets, by the way, your tip on putting a dab of grease on the drill bit to catch the shavings worked great, I just kept on, a few turns at a time and kept wiping off the drill tip after a few turns, till I punched through, no problem.

I then blasted the whole thing with carb cleaner to be sure it was clean.

I tried a few different settings on the mixture screws, the best is 1.5 turns out on all four carbs, all signs of surge are gone, and the bike is so smooth it's almost like having a new one.

I hope you will post this on your feedback to help other ZX-9R owners solve what Kawasaki failed to do right in the first place.

Thanks for producing a product that WORKS,

Best of luck to you.

Bob Lenart
__________________________________________________
Do You Yahoo!?
Get email at your own domain with Yahoo! Mail.
http://personal.mail.yahoo.com/

Feedback
Subject: Prototype notes on 00' ZX-9R
Date: 25 May 2000 23:13:29 -0700
From: eric@ericdornracing.com
To: bigdaddymark@factorypro.com




Hey Marc,

Here is my findings on the pre-production kit, #CRB-K88-1.7-RK. Feel free to post for others to use.

First off the bike was a 00' California model.
Second, this kit WORKED!

We used our (dxxxxxt) dyno for before and after dyno runs.

All Stock as delivered from Jim Gilbert of Ashland, Oregon with 1,390 miles.

Peak hp was 131.6 dynojet hp The bike is fairly "flat" from @8,500~11,500. Resembles a table almost. Customer complained about terrible "lean surge" at cruising and low speeds when he brought it in.

We then proceeded to remove the stock exhaust and install a new Akropovic full system. Complete stainless steel with a carbon fiber canister (20") installed.

Emissions:
First off we removed ALL emission related items; hoses, vent lines, canisters, etc. After that we moved on to removing the carbs, fairly simple, just be sure to take time in removing throttle cables. (place clean rag over manifolds!)
The next step was to "by pass" the "exhaust air injection system" This is very straight forward. Simply remove the main hose that comes from the airbox on the right side and goes to the middle of the valve cover (@7" long and 1" dia.) remove the actual "valve" that connects the previously mentioned hose to two smaller hoses that connect to the valve cover.
Next plug off the vacuum line that is connected to the "valve" and the #3 intake manifold. (we simply remove it and place a vacuum cap over the #3 intake manifold nipple. finally we install a @4" piece of 1/2" pipe between the two hoses that are still connected to the valve cover (and used to have the other ends into the "valve") that way the entire system is bypassed. Failure to do this WILL cause backfire upon deceleration!!
(note: This is a CA bike, but is located in Oregon. It is illegal to tamper with emissions equipment in CA vehicle registered in CA. Marc)

Now onto the carbs.
First off we removed the float bowls on each carb. Then we replaced each pilot jet (stock #38) with the
provided #40. We then moved onto the emulsion tubes and the main jet (the bigger round one, in center of carb!) We simply removed the stock emulsion tube with the main jets still installed in them from the carbs. You must then "separate" the stock emulsion tube from it's OEM "holder", this is very easy just take two 8mm box wrenches. Then install the #emu-188k factory emulsion tubes into the OEM "holder" and reinstall into carb body. BE SURE NOT TO OVER TIGHTEN the tube.
Next we installed the main jets into our new emulsion tubes. The stock mains were 165 on the outside and 170 inside.
We installed 175in and 178out for a starting point. We then checked the float height. Simply "rotate" the carbs until the floats "hang" free and move freely. Then "roll" the carbs back the other way until the "settle" . DO NOT COMPRESS THE FLOAT VALVE PLUNGER!!! We found this to be right at 4mm as delivered and left this at it current setting. We finally replaced the bowls with the new (and much better) allen screws provided in the kit.

Next, you must remove the Fuel Mixture Screw plugs.
Simply place the carbs so that you are looking straight down on the bottom of carbs and look for round brass cap (@10mm dia.) and remove with a appropriately sized drill bit. BE CAREFUL!! DO NOT drill too far! You WILL hit the screw head and mess it up. Take your time. Be sure to clean the carbs off very well
after this. We then turned in each fuel mixture screw until it seats (NOT TOO HARD!)
The stock settings were all over the place from +0x to +2.5x. We set #1 and #4 at +1.25turns out and #2,#3 at +1.5 turns out. This later gave us a CO% reading of 3.5% at idle when bike was fully warmed up.

Next, we moved onto the needles. Once the carb tops were removed the needle retention cap needs to be removed. This is very
simple, just "squeeze" the cap at the arrows and lift up. We removed the stock non-adjustable needles and installed the
#0969j-83o-40v5_2.9bt needles included. The needle clips were placed at the /2 position (from the top) with the stock metal
"shim" RETAINED! Then reverse the order to reinstall the needle, slides and caps. NOTE: if the rubber slide diaphragm does
not want to "stay" in it's groove, try some grease (like Silkolene PRO RG, Dielectric grease or such) in the groove and that should hold it in place while you install the slide top.

Finally we removed the airbox adapter plate on the back side of the carbs in order to modify the main air jets. When
looking into the back of the carbs you will notice two "jets" you want to drill the MIDDLE ONE!!! Do NOT touch the other.
We used a "PIN VISE" to drill out the main air jets. (A pin vise is a small hand held "drill" that you can purchase from a
hobby shop for about $9.) TAKE YOUR TIME!! The drill bits are FRAGILE. We enlarged the #1 and #4 M.A.J. to 1.1mm with the BLACK coated drill bit. Then we enlarged the #2,3 M.A.J.'s to 1.2mm with the SILVER coated drill bit.

We then, after making VERY sure the entire carbs were clean, reinstalled then in reverse order of disassembly. Once
installed we warmed the bike up to operating temp and shut off. We then installed a set of mercury carbs sticks and refired
the bike to "synch" the carbs. NOTE: Please do NOT skip this part, carb synch is VERY important for smooth running! And do
not synch until bike is up to operating temp.

After a few moments to warm up we ran a few baseline runs and then "pulled the trigger"

YEEE HAAA! What do you know.... 144.7hp! A HUGE 13+hp gain. Not too bad. More importantly the bike's dyno graph was
actually SMOOTHER than before by A LOT. The bike now peaked at @10,200 and held most of it with in 4% of peak hp at
redline! VERY NICE.

Lastly the moment of truth. A call from Jim on Sunday.
He said that he has NEVER in 13years of riding had a bike run so smoothly and cleanly.
The bike warms right up, runs perfectly and has no glitches at any rpm or throttle position!

Thanks again for letting me help your forever ongoing development of the BEST carburetion recalibration kits available. We at EDR PERFORMANCE will continue to run nothing but FACTORY TUNING products in all our race and street bike. Thanks again,

Eric Dorn, owner
EDR PERFORMANCE
5968 S.E. Alexander Street Unit F
Hillsboro, OR 97123
503-259-2891

BTW Last weekend, May 21st Team EDR PERFORMANCE engines and Factory Pro Tuning products won the following races

600 Supersport (also 2nd, 5th, 8th)
600 Superbike (also 5th, 9th)
750 Supersport (undefeated so far at ALL OMRRA and WMRRA race weekends in 2000)
750 Superbike (also 2nd, 5th, 9th and still
undefeated in this class as well)
Open GP Twins (undefeated as well)
Open Supersport-B (also 3rd in 600 s/s-B)
3rd Middleweight GP Twins (fastest SV650 at PIR!)

Not too bad of a weekend huh?, Eric
Feedback


Subject: ZX-9R carb kit feedback
Date: Sun, 5 Nov 2000 22:21:51 -0900
From: " Chris H" <chrs@ptialaska.net>
To: <factory2@ix.netcom.com>

Hi Marc,
I'm just a backyard tuner, but this kit CRB-K88-1.7-RK for the '00 ZX-9R rules!!

Most of the magazines have been complaining about the abrupt throttle response, it cured it, but I was noticing other things too like long warm up times and the bike not starting immediately when hot. (very embarrassing) It cured these things, too! I have a Yoshimura pipe on the bike and until I can get too a dyno, probably next spring, I just installed it as per instructions but I couldn't find anything wrong after riding it most of the day. The installation was sort of easy but I was kind of paranoid about drilling the main air jets having never done that before but it was easy and I blasted carb cleaner all over to make sure the metal shavings were gone.

Also I tried something that I remember you saying once on the CBR list, I hope you weren't kidding cause then I'll feel stupid, that either you or someone that you knew had tried "personal lube" for putting the carb boots back on.
I got a free sample of Astroglide through their website and tried it, here's proof, http://www.ptialaska.net/~chrs/astroglide.jpg I swear I have never in my life had carb boots go on so easy it cracked me up.

I am on the ZX mail list and will definitely recommend your products to other listers.

Thanks,
Chris

BTW: I went with 175 outer 178 inner mains. needle 2nd pos. with washer. 1 1/2 turns on the mixture screws.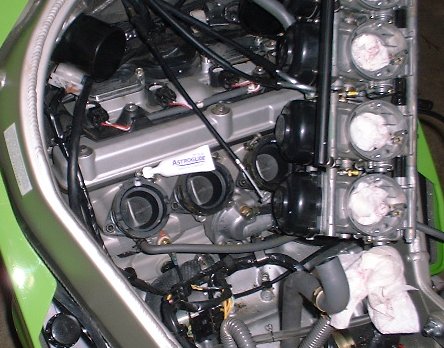 Astroglide! A Slick installation!