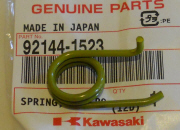 oem pic and pn: 92144-1523-019

We have F-Pro Shift Spring:
pn: z95-045-089
10-16
$39.95
(gasket not included)


Shift Spring kit
Don't settle for clunky Z1000 shifting.....
If you have notchy, clunky shifting - Install Factory Pro's Shift spring.
The slightly stronger detent spring rotates the shift drum quicker, so the gears are more likely to engage under quick shift conditions.
Big improvement when quick shifts, especially from 1st to 2nd.
Helps eliminate "ghost shifts" and false neutrals in the upper gears.

It's an inexpensive, reliable addition to your bike for better shifting.
Takes about 1.5-2.5 hours for spring install. Spring and arm located behind the clutch basket.
Factory Pro
Back to the basics.
"Fixing what the factory forgot"
800 869-0497 415 883-5620