Marty Siegel was my roommate, 1975 AFM 750 Production class champion, my fellow high school classmate, and probably responsible for me ending up racing and earning the title World's Fastest Vegetarian (although, I share that title with another guy).

But, I WAS the only "Wildman from Old Uncle Gaylord's Ice Cream Parlor" in San Rafael, I'm pretty sure.
On Marty's 750, we used a combination of used parts from different models of H2, long swing arms and short swing arms, from different years, depending on the track. Sears Point was always the short arm.
Marty and I were so poor that we couldn't afford main jets, so if the bike seemed rich, we opened up, and very carefully, "eyeballled" a "main jet's worth" of Blendzall "Gold Label", you know, the additive that contained Castor bean oil and a mysterious substance called "Oil of Merbane" (which, it turned out to be, another name for nitro-benzene that the post office and UPS didn't know about....). How many people remember getting squirted in the eye with a pressurized can of Gold Label when first opening the can with a can opener? (how many people remember can openers?)
In 1975, Marty and I, with the help of big, friendly, Fred Franklin (who lent us his engine for a race, after the transmission lost some gear teeth in practice), won the 1975 AFM 750 Production Championship.

Thank you Fred.
I think that I eventually reshimmed and rebuilt your transmission? As it was toast at the end of the race.......
If not? Fred, Marty may be gone, but I owe ya.....give me a call 415 491 5920
Marc
If you ever wanted to learn about shimming transmissions, grinding special shims, and re-profiling worn gear engagement dogs by eye and a steady hand and a Dremel, this was the bike to learn it on. Two hard races and it was teardown time before we learned how to set up a transmission to live. Then it was every 5 races.....
Thanks Erv Kanemoto for the insight. I still remember the directions to your house.. "Turn left at the giant artichoke.".
If we only knew then, what we know, now.........

BTW - I still have some of those "must have" special" splined and heat treated .5mm shims in stock. Marc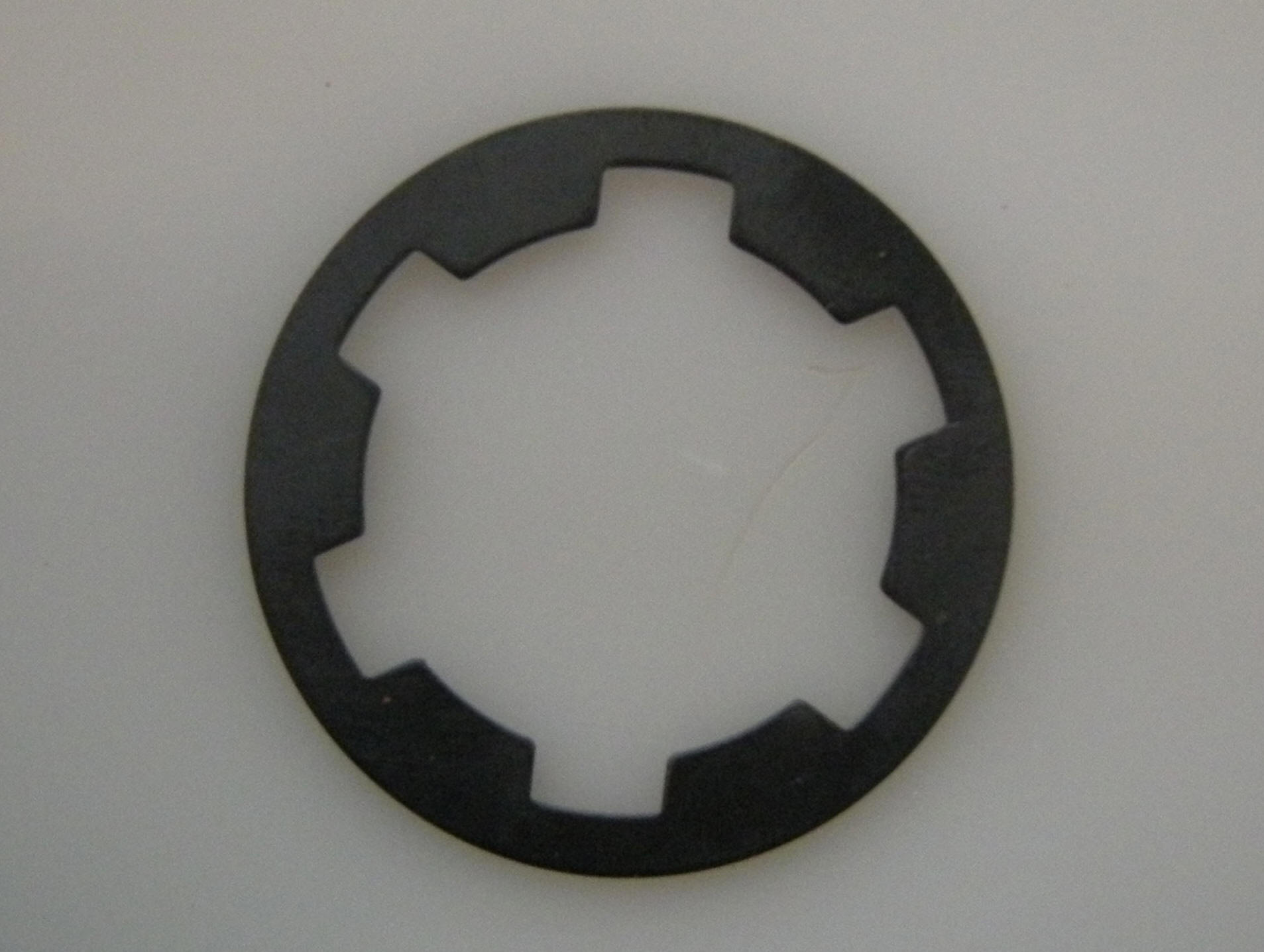 Heat treated shim .5mm
$20 each

limited supply
5 left as of April 2016
1. Choose your shipping method

2.

These are the shims that kept our transmissions together so that we could win 1975 AFM 750 Production with rider Marty Siegel -

Thin .5mm / .020"
Splined heat treated
transmission Shims


These are the last of what I have - they are discontinued and I can't get any more.

Under hard use, Kawasaki H1 and H2 transmissions like to burn up the stock soft spinning shims that ride up against circlips and then spit the circlips right out of their grooves from missed shifts.
...........................................


Can be used in Kawasaki H1 and H2 transmissions (and maybe, S3 and S4?) and are doubled up to get a 1mm shim. To get a .016" shim, surface grind one shim from .020" to .016".
To get a .030" shim, grind 2 shims to .015". For reliability, never grind a shim thinner than .012" and only grind on one side of a shim.


Non-spinning shim for use between a clip and a spinning gear.

26.10mmm ID
(meant for 25mm to 26mm OD transmission shaft)

6 locating "legs"

Heat treated for improved durability


Places you don't want spinning shims are like where most of the "24" shims go.

.5mm shims, previously available in the H2r parts list, are no longer available from Kawasaki.

This is out of a box of "transmission shims" that I found in the garage at home.