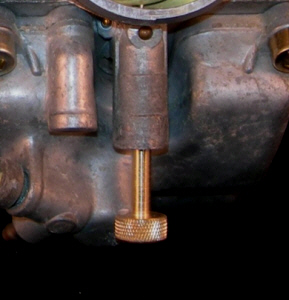 Long Boy Fuel Screw
pn: CRZ-SCR-4030m/drz400/klx400
$23.99
includes:
New finger adjustable screw, new plated spring and washer and new o-ring
"Long Boy"
DRZ400 / KLx400 (with CV carb) extended finger adjustable Fuel Screw.
Frustrated with trying to find an "almost 90 degree" screwdriver to fine adjust your fuel screws for best idle and cruise?
Use Factory Pro's new "finger adjustable" fuel screws to adjust fuel screws for best throttle response. Traveling to high altitude? It's easy to lean out the lowend temporarily.
Make your life easier on the trail.
Installation:
Remove old short stock fuel screw, old o-ring, old washer and old spring. The o-ring might be stuck in the carb, so, if it's not in your hand, take a light and make sure it's really out if it didn't come out with the screw (or you can't find it after you took out the screw)
Use a small bent wire to pull it out if it doesn't drop out. Keep the old parts in a zip lock baggy for "spares".
1 DRZ 400 / KLX400 screw assembly comes with:
1 Long Boy fuel screw CRZ-SCR-4030m/drz400
1 new o-ring
1 new washer
1 new spring

Great product, best price around for these and fast shipping! Thanks Blargins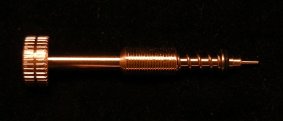 CRB-S46-1.1.ti
$69.95
Use with a stock or modified airbox and stock or aftermarket exhaust.
The Factory Pro updated DRZ400 Carb Recal kit! Including Super Moto
Specially developed to address the cv carb "bog" issues.
The kit, when properly tuned, adds more low-end / midrange and if the proper main jet is selected, more top-end power. Easy to install and tune - no slide drilling.
It's not recommended to cut additional holes in the airbox, as the main air correction circuit is affected - causing either a lean spot at 8000 rpm or a rich spike at redline. Most Factory Pro Dyno Centers have the equipment to measure the skew and can perform corrections to the main jet fuel curve to gain all the power that the additional air will supply.
Without that correction, you'll always have to "split the difference" and not have all the power you could have at 8000 or at redline.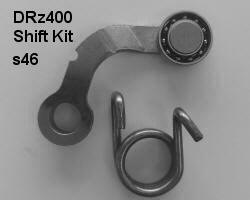 SHFT-PRO-S46/drz400-STEEL
The arm with a Steel microbearing and spring kit.
$139.95 retail
$99.95 Sale!
(replaces 25350-29F00 detent arm and 25355-29F00 stock spring)
Factory Pro Shift Kit

Virtually Stop missing quick shifts.
Includes Factory Pro Microbearing Detent Arm, heavy duty detent spring but not a clutch cover gasket. Makes shifting more positive at the expense of slightly stiffer shift lever action. The stronger detent spring rotates the shift drum quicker, so the gears are more likely to engage under quick shift conditions. The Microbearing removes friction for the quickest possible shifting with the least amount of effort.
Includes: Factory Pro Microbearing Detent Arm, Factory Pro Shift Spring.
Our 2 piece kit includes microbearing detent arm and F-Pro Shift Spring.
Installation:
Takes about an hour to install and you have to supply a new clutch cover gasket. You have to be able to remove and replace the big clutch basket to install the new arm and spring. Helps heaps to have an impact wrench.
Marc
Feedback
August 2005
Hey Marc,
Raul put the cover on the drz400sm this morning, and I thought these photos were probably better quality than his phone-camera thingy. Thanks for making great product, and having great people work for you. The bike runs killer, Raul did a fantastic job tuning it, and I'm loving riding it. Need to get back on the bicycle, though...
Later, Tim