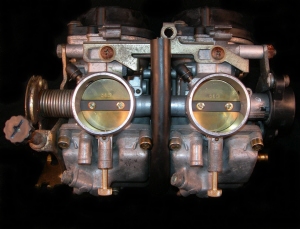 sample picture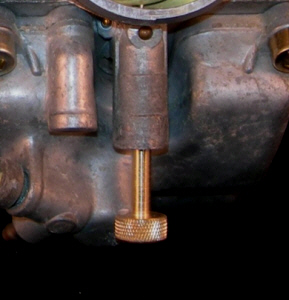 Long Boy Fuel Screw set
$99.95 / 4
pn: CRZ-SCR-5020M
with new screws, springs, washers and o-rings

"Long Boy"
Finger and screwdriver adjustable extended Fuel Screw
Frustrated with trying to find an "almost 90 degree" screwdriver to fine adjust your fuel screws for best idle and cruise?
Use Factory Pro's new "finger adjustable" fuel screws to adjust fuel screws for best throttle response. Traveling to high altitude? It's easy to lean out the lowend temporarily.

Make your life easier.
Installation:
Remove old short stock fuel screws, old o-rings, old washers and old spring. The o-ring might be stuck in the carb, so, take a light and make sure it's really out if it didn't come out with the screw (or you can't find it after you took out the screw)
Use a small bent wire to pull it out if it doesn't drop out. Keep the old parts for "spares".
Fuel screw set comes with:
4 Long Boy fuel screws
4 new o-rings
4 new washers
4 new springs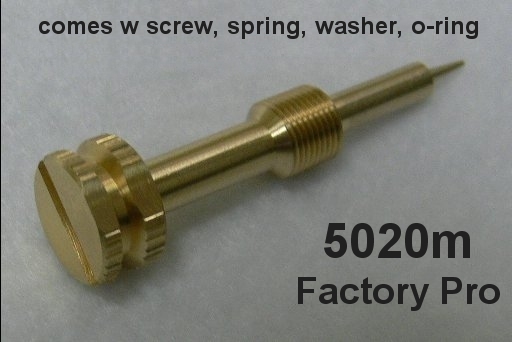 CRB-TD12-1.0
Up to 99 and beyond, Daytona 1200, Trophy 1200 w/ 36mm MIKUNI carbs

$159.95
Legacy Kit
2.
Best "drop-in" kit available for the 36mm Mikuni CV carb equipped Triumph 1200's.
Boosts power a bit at full throttle, improves throttle response and wheelie ability. Definitely pulls harder out of 2nd and 3rd gear corners.
Factory Pro manufactures stock replacement needle jet / emulsion tubes for the stock Mikuni carbs.
For 1200's with Mikuni carburetors.
---
Hello Marc,

For two years ago I have ordered in the Netherlands the CRB-TD12-1.1-TI kit for my Daytona 1200. ('95-60.000 km)

The problem before was, no smooth at lower rpm and in cold condition it was necessary for at least 10 minutes to use the choke. The information about this I found on your site. Never heard before about emulsion tubes who are worn. I removed them, then looked to them with help of a magnifying glass and I was wondering about the wear of the tubes. The same as the pictures you showed on your site!!!!

After installing the kit, everything changed. Smooth everywhere, decreased full-consumption, increased power, the choke was a great help the first ten seconds, after this period, not necessary anymore. A great solution.

For two weeks ago I ordered for the same bike an ignition advancer but they send me the wrong, it was the advancer for the three cylinder. No problem, I have more Triumphs and installed it on my '95 T-bird (60.000 km). Ha, ha, it helps really. Increase of power and.......... from 2nd to 3rd gear a wheelie, for the first time since 13 years!!!!

Thanks again!!!

Louis - Netherlands / 2008, 04, 10

CRZ-EMU-100102k
Needle jet / emulsion tube
$132 set of 4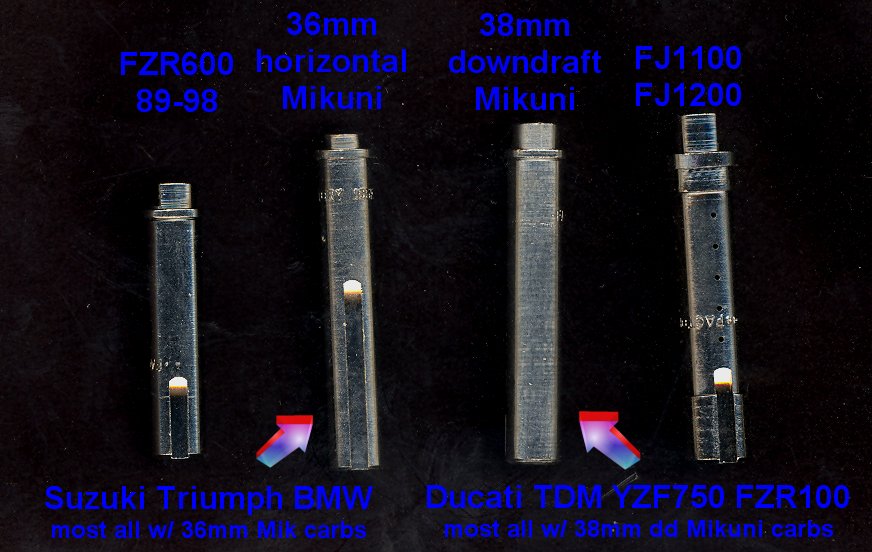 The stock Triumph 1200 needle jets (incorporated into the top of the emulsion tube on the 36mm Mikuni carb) wear out in as little as 8000 miles of "in town" driving on Mikuni carbs, causing excess fuel delivery that cannot be compensated for by lowering the fuel level. Generally, if your bike has 10,000+ miles and the mileage is very poor, the needle jets / emulsion tubes are the first thing to replace to get back to "like new" mileage.

Check out emuworn.html for more needle jet wear information.
UK buyers: Purchase Direct on this website.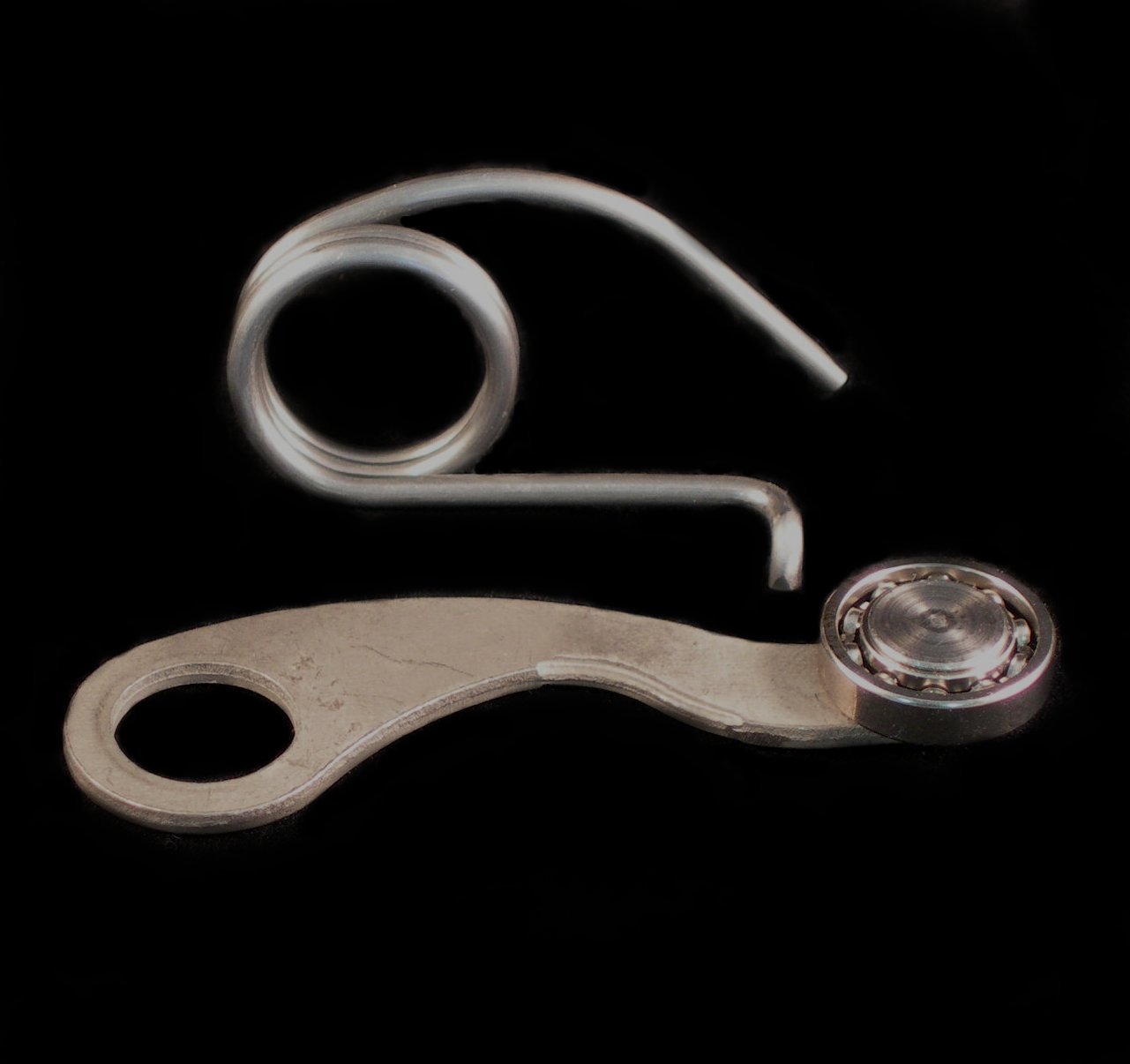 (not correct picture)

SHFT-PRO-TD09 $159.95
(3 week lead time)
replaces:
arm 1190022-T0301
spring 1190335-T0301
clutch cover gasket not included
Pro Shift Kit
Tired of lazy, clunky shifting? Tired of missing the 1-2 shift?
Factory Pro's famous Pro Shift Kits are now available for the early 900 and 1200 models.
Improved Factory Pro designed and manufactured Micro bearing Detent Arm and Factory Pro Detent Spring will firm up shift feel and virtually eliminate missed shifts - both up shifting and downshifting.

Shifts quicker. Misses fewer shifts. Feels RIGHT.
Perfect to install when working on the clutch.

Remove the RH engine cover - the clutch assembly, bolt in the kit.
Includes: Factory Pro Micro bearing Detent Arm and Factory Pro Detent Spring.
(This kit does not include a clutch cover gasket)
Installation: Less than 2 hours to install with impact wrench and large socket set.
Can I install it myself?
Yes - If you can remove the clutch assembly, you can do this.