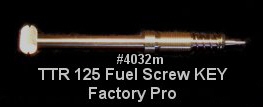 Kit includes:
F-Pro extended fuel screw
new plated spring
new washer
new o-ring
replaces oem
4LS-14923-20-00
5HP-14923-00-00

$23.99 + $14 UPS Ground shipping - tracked and insured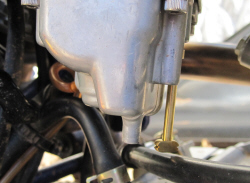 pic courtesy of Dave Hamilton
Braselton,GA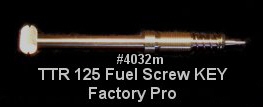 Factory Pro saw a need for an easy to adjust, extended fuel mixture screw for the ttr125.
Here it is. The Original Extended fuel screw for the ttr125.
For the past several months, I've been working with Marc Salvisberg, the wizardly owner of Factory Pro Tuning, to create a finger-adjustable fuel screw for the OEM
Mikuni
carburetor on the TT-R125. Tonight, my friendly neighborhood UPS man delivered the prototype to me, and I could hardly wait to install it in my TT-R125E.

I'm sure you're like me, and you fiddle with the fuel screw all the time, but it's a major pain to adjust, as I'm sure you know. Well, our days of envying FCR-equipped bike owners with finger-adjustable fuel screws are over.

Marc came up with a "T-handle" fuel screw design that works perfectly. You can install it without removing the carb from the bike, and it's a perfect length--long enough to clear the rather tall fuel bowl on the TTR, but not too long so that it's obstructed by the clutch cable located below the carb. The "T" profile on the end is very easy to index, and its shape is easy to get leverage on with your two index fingers. All in all, it's a big success, and I let Marc know that the design is ready to go to market.

Marc has set a retail price of $XX.95 for the screw (which includes the required spring, washer, and correct-size o-ring), and they are available from his company (Factory Pro Tuning). You can log onto
www.FactoryPro.com
for Marc's contact information.

Get in touch with Marc and Factory Pro and "get you one"! 415 491 5920
Sean Bice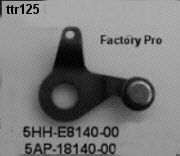 SHFT-ARM-Y5HH-KT-CERAMIC
Hybrid Ceramic Microbearing
$89.95

REPLACES
5HH-E8140-00 05-14


Factory Pro Microbearing Shift Detent arm


Low friction CERAMIC balls and STEEL races


Ever cringe when you see your school students attack your poor shift lever like they are stomping on a 6ft Diamondback Rattler?

Decrease friction for quicker shifting.
Fewer missed shifts.
Helps prevent gear and fork damage caused by missed shifts.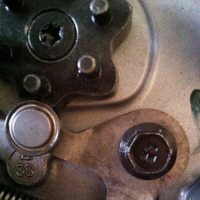 Thanks to
Marc Salvisberg @ Factory Pro
We have much improved shifting in our Yamaha TT-R's by installing his bearing detent arms.



Rich Oliver's Mystery School
559 855-3089
Auberry, CA
(Fresno area - close to northern and southern CA)
Dec 2014