CRB-H06-1.0
$179.95
Special Legacy Kit for use with the stock airbox.
Standard drop-in carb kit
for use with stock airbox, stock or aftermarket filter, stock or aftermarket exhaust system or slipon.
Adds more low-end / midrange, if the proper main jet is selected, more top-end power.
Celmat30 needle material.
Easy to install and tune - no slide drilling.

Works better than any other carb kit, even slightly better than the venerable HRC kit.

CRB-H06-3.0
$179.95
SPECIAL LEGACY KIT
for use with pod filters (filters not included).
Config 30
I'm not sure how you do it, but if you can get some filters onto the stock carbs (no, I can't help much with "how") this kit worked well.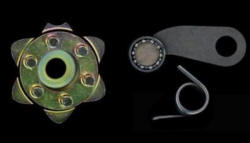 The Full Evo Shift STAR Kit


SHFT-EVO-H42-KT
$239.95
H42 EVO Shift STAR, MR7 microbearing Detent arm, 055 spring, MY7gasket


(add $30 for 19 Ball Ceramic Bearing upgrade)
marc@factorypro.com
2.
Microbearing Detent Arm, Spring and
EVO Shift STAR Kit
The EVO Shift STAR kit will upgrade your bike to the latest, greatest shift action.
Virtually eliminate missed shifts - Shifts quicker - especially 2nd gear. A "tap" on the shifter and it's in the next gear.
Who else but Factory Pro would continue to support the classics? Making them as good as the new bikes and making the new bikes, even better!
Make shifting MUCH quicker and virtually eliminate missed shifts. Helps address missed shifts caused by poor shift detent "star" profile.
................................................................