CB750 Nighthawk 91-03

One of the nicest standard 750s ever made. Clean styling and very smooth - a good bike is starting to pick up value as a collectors item.
Factory Pro Products Available
Carb kits

4 screw set




(sample pic above)


(sample pic)

Long Boy Fuel Screw Kit

pn: CRZ-SCR-3020m1-ME5/KR3
replaces
16016-ME5-671
16016-KR3-671

$89.95 4 screw kit
with 4 new screws, springs, washers and o-rings

Finger AND Screwdriver adjustable extended Fuel Screws

Frustrated with trying to find an "almost 90 degree" screwdriver to fine adjust your fuel screws for best idle and cruise?
Use Factory Pro's new "finger adjustable" fuel screws to adjust fuel screws for best throttle response. Traveling to high altitude? It's easy to lean out the lowend temporarily.

Make your life easier.

Installation:
Remove old short stock fuel screws, old o-rings, old washers and old spring. The o-ring might be stuck in the carb, so, take a light and make sure it's really out if it didn't come out with the screw (or you can't find it after you took out the screw)
Use a small bent wire to pull it out if it doesn't drop out. Keep the old parts for "spares".


CRB-H14-1.0 $139.95


Carb Kit

Adds more low-end / midrange, if the proper main jet is selected, more top-end power. Celmat 30 needle material. Easy to install and tune - no slide drilling.
Works better than any other carb kit.

Transmission Shift Improvement kit - Shift Kit

SHFT-PRO-HON-6/cb750 $149.95

(includes new 24430-MJ0-000 Microbearing detent arm, F-Pro z95-h001 shift spring and new 11394-MW3-600/601 cover gasket)

(add $20 for ceramic bearing)

Legacy Kit -
allow 1-2 weeks processing time





The famous "Microbearing detent arm and a spring" PRO Shift kit

Includes the Factory Pro Microbearing Detent Arm and Factory Pro shift spring

Improves the lazy shifting that the Nighthawks are known for.

Makes shifting EASIER and MUCH quicker and virtually eliminate missed shifts. Helps that 1-2 shift.

Shifts more consistently and helps prevent missed shifts (which damage shift forks and engagement dogs)

This kit will help keep a Nighthawk from missing shifts - however, if your bike already consistently kicks out of 2nd gear at high rpm, it's not going to fix that. That's probably going to take pulling the engine, splitting the cases, replacing 2nd gear, the gear it mates with and a new 2nd gear shift fork.

Installation
1-2 hours, no case splitting required

This is the same type of kit that Yamaha Racing has used. Ohh.... and Yoshimura.... and Erion..... and Two Brothers...... and Honda....... and Kawasaki........

Nighthawk 750 INSTALLATION INSTRUCTIONS - CLICK HERE

.......................

Feedback

.............. I decided to take the cover off once more and check everything. I confirmed once more that the arm was working right, but then I took off that center piece with the little plates and springs and pistons. I think something there must have been backwards because when I put it all back in again it seemed tighter and more "right". After reinstalling the cover the bike would shift to all gears while turning the back wheel. Put oil back in and fired her up, went on a test drive, all is groovy. Shifting like a million bucks. No crunch! Tight and fast. Thank you!


David Poag
---
Feedback
From: "Harry Lawson" <harrylawson@earthlink.net > 5:00 AM

Subject: Ignition Timing Honda 750 Nighthawk
To: <info@factorypro.com>

Dear Factory Pro:

I bought one of your jet kits and a Vance and Hines system for my Honda 750 1992 Nighthawk - Best money I invested yet.

Is there an ignition advance kit for my bike you have and will it improve part throttle response ???

If so, please let me know part number and how to order.


Thanks,
Harry Lawson
Oxford, CT
Answer:
Sorry, we haven't made an advance for the Nighthawk. Regardless of whether I want to or not, it's a pretty complex part with high setup costs.
M
---
Installation Pro Shift Kit
Contributed by Roy Myklebust / Norway
Norway
Factory Pro shift kit for Honda CB750 Nighthawk

I've had considerable shifting trouble with my 1997 Honda Nighthawk, primarily from first to second gear. When it warmed up the gears would grind as if they couldn't mesh properly. The only way to get a smooth shift was to wait between first and second until the gears had slowed enough to make a reasonably smooth shift.
Having searched the net for a solution I came across the Factory Pro shift kit and thought "What have I got to lose?" Well, this turned out to be the answer to my problems. What follows is a description of the installation procedure and the problems I encountered.
---

To begin with the procedure is very straightforward and does not entail any major removal of parts. Having said that I must warn you that this installation is not for people with little or no mechanical experience. Before you start make sure the transmission is in neutral and on the center stand. (ed: In general, older bikes must be in neutral to line up pawls, gear teeth in the shift mechanism. Newer design transmissions. like designed in the mid 90's or later, don't have to be in neutral).
After draining the oil the first step is to remove the gear shift assembly:
<![if !vml]>
<![endif]>
Remove the shift arm's 6mm bolt completely and use a tap a screwdriver in the clamp's slot to spread clamp. There is a small dot on the shaft and the clamp that align when you replace the arm.
The next step is to remove the chain guard cover:
<![if !vml]>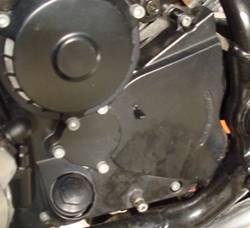 <![endif]>
There six screws with allen wrench (umbraco) heads. It takes a little fiddling but you can maneuver the cover off the by twisting and turning. You might as well take off the side stand switch right away because it will just be in your way throughout the procedure.
Now you have to remove the neutral switch from the case cover:
<![if !vml]>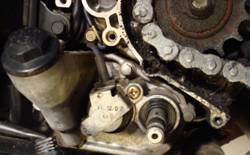 <![endif]>
Here is where I encountered one of my biggest problems. No amount of twisting, hammering or cursing made those two Phillips head screws come loose. I broke the tip of two screwdrivers trying to break them loose. I stopped short of rounding out the two screws and finally decided to remove the cover anyway realizing that there is no way I can replace it without removing the switch. If I had an impact screw remover I might have made it but I am no longer a mechanic and don't have a fully packed toolbox. The end of the story was that I had to clamp the cover onto my workbench and use a chisel to back out the screws by hitting them tangentially. I was fully prepared to cut them off and drill out the holes. (ed: buy an inexpensive hammer impact driver and it's easy)
The next step is to remove the cover itself. There are five bolts where one of them has a copper washer. It's important to note the placement of that bolt. The two bolts at the bottom are very difficult to reach and require an offset boxed end 8 mm wrench. Buy this before you start!
<![if !vml]>
<![endif]>
You may as well take out the two screws on the heat shield and loosen the middle screw to get a little more room. The middle screw won't come out due to clearance. Be aware that the lower two bolts on the case can only be removed with the cover as it's being maneuvered off.
After the bolts are removed the cover may be hesitant to come loose. I had to use the shaft of my hammer to tap it loose. When removing the cover remember to pull the shifting shaft out at the same time and release it from the gear assembly.
<![if !vml]>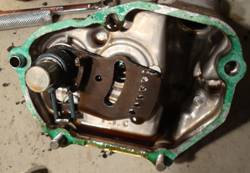 <![endif]>
Notice the hole in the middle of the shifting assembly. It will be used when reassembling to line up the gears. The corresponding lineup hole is behind the neutral switch.
<![if !vml]>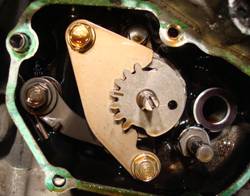 <![endif]>
Here you see the cover plate that holds the shifting assembly in place. Remove the two bolts and carefully slide the plate out. To the right you see the hole for the shaft assembly removed earlier. Remove the two cover plate dowel pin guides to ensure that they don't fall into the oil return hole.
<![if !vml]>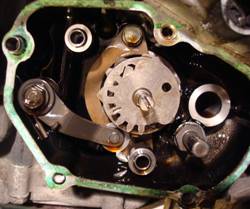 <![endif]>
Now we come to the root of the problem with the early Honda transmissions. (finally!) The detent arm and the spring is what must be changed. Here you have to be VERY CAREFUL! Behind the arm is an oil return hole large enough to lose objects into the sump. Start by placing the end of a rag into the hole.
Proceed by removing the bolt retaining the detent arm and spring. Behind the spring is a washer that must follow with the arm and spring when removing them. After you have removed the arm you will find it supported by a collar. The next step is tricky. I read on another forum where someone suggested pre compressing the spring and retaining it with a small nylon zip strap. This works but watch your fingers! When that spring pops away you may end up holding your hand screaming for five minutes. (Don't ask how I know…) (ed: Ed knows how, too)
Now assemble the arm, collar, spring and washers and install it in place. Everything will be loosely in place while you start the threads of the bolt. Be sure the spring is correctly mounted to the arm and tighten the assembly just enough to bring everything together. Snip the zip strap and snake it out from behind the spring. Now begin to tighten down the bolt as you work the arm with a large screwdriver. This is important! If you don't work the arm the collar won't seat properly and you will get a false feedback which may cause the whole thing to loosen later as you're driving. You will see and feel when the washer centers on the collar. Actuate the arm to check that it is functioning as it supposed to.
An important warning: I managed to lose the rear retaining washer into the oil return hole when I removed the arm assembly. The rear washer will drop off and slide into the hole if you haven't blocked it somehow. Luckily I had a telescopic magnet that I could bend and fish out the washer. I guess I won't be winning the Lottery this year having used up all my luck on this…
<![if !vml]>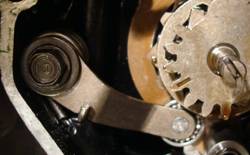 <![endif]>
Here the new arm is in place. Now carefully replace the cover plate for the shifting gear.
<![if !vml]>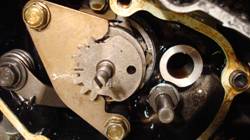 <![endif]>
Now scrape off the old gasket, replace the guides and install the new gasket. I'm a fan of Permatex so I spread a very thin layer on both sides of the gasket. The next step is to reinstall the shifting assembly and cover. This requires some dexterity as you must have the shifter lined up with a centering pin as you maneuver it in place. Behind the neutral switch is a tiny screw that covers the line up hole. (id: if using a new gasket and the case and cover surfaces are clean, you can skip the gasket sealer)
<![if !vml]>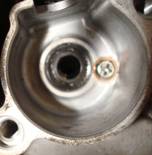 <![endif]> <![if !vml]>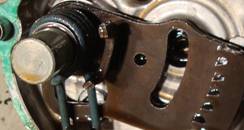 <![endif]>
Remove this and insert a long thin Phillips or a long scribe and make sure it goes through the lineup hole in the shifter assembly. Be sure the thrust washer is placed on the shaft.
Before you begin the reinstallation of the cover and shifting arm be absolutely sure the shifting gear is pointed directly forward. Otherwise you may not be able to shift gears. Remember! The transmission must be in neutral during the whole procedure!
<![if !vml]>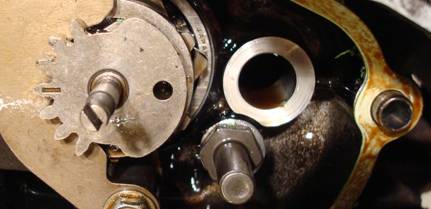 <![endif]>
When you believe the cover is in place you should be able to push it up to the point where you can feel a small gap between the engine and the cover. The spring in the shifting arm will push it a little away but there should not be a large gap. DO NOT try to force it into place by tightening the bolts. This is incorrect! It should fall into place. Proceed after tightening the bolts evenly.
<![if !vml]>
<![endif]>
Now do not hurry to finish. Mount the shifting arm in place and check your gears!! If it don't work now it won't work any better on the road…
When you're satisfied that every gear is there then you can continue with the neutral switch installation. The switch has a line up mark on the rubber gasket for the center arm. Reinstall the chain cover.
<![if !vml]>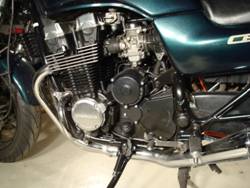 <![endif]>
Congratulations! You have successfully completed the Factory Pro shift kit installation. Remember to refill the oil before taking your lovely out for a ride. Afterwards you can take your wife or girlfriend out also. J
As I mentioned earlier this kit solved my shifting problems. As long as everything else is in order I'm sure you find a greatly improved performance on your bike also. These instructions may seem unnecessarily long but I have tried to include as much information as possible to make the job easier for those who don't have a great deal of experience with a wench. Remember! Use common sense! If the bolt won't come out or the assembly won't go in, don't force it. Find out why and have alternatives ready. And watch that oil return hole.
Good Luck Mr. Phelps…
Sincerely,
Roy Myklebust
Norway
November 14, 2010
---
Absolutely NO carb parts sold in California.


New and improved Suzuki Teka SFI 2

with new TPS display and "MMT" Memory Module Tuner

Finally - Quick, easy, cost effective Suzuki tuning with no expensive "add-on boxes"
Suzuki cruisers and sportbikes

Contact Factory Pro
M-F, 9am - 5pm, Pacific time, -7 or -8 GMT

800 869-0497
USA and Canada

415 883-5620

parts information
info@factorypro.com

EC997 dynamometer information
info@factorypro.com

Product Support /Tech SECTION
click here

Mailing / Shipping address:



Factory Pro
101c Roblar Drive
Novato, CA
USA

And most importantly
Restart back at the HOME page and click on the red box in the top left to find the bike that you want parts for...
restart at HOME page

This Tuning Site has been visited by

people.
www.digits.net - the oldest counting service on the web

LINKS
EFI and Carb Tuning - Most all FI and carb tuning

by Wheelsmith Racing

Flight Training - train with AMA race winner Todd Harrington.



The Harringtons own

American Flyers

, one of the most established flight training facilities in the USA.

8 locations

800-362-0808
The Rich Oliver Mystery School will help you discover your hidden inner strength.
It will challenge you. It will teach you a new way of thinking, and a new way of riding. You can take your riding to an exciting new level!

We use a variety of proven drills and training techniques.
Practicing these techniques with our Yamaha dirt track trainers will enhance your abilities both on the track or the street.

It doesn't matter what you ride or race, the Rich Oliver Mystery School improves everyone's skill level and mindset!

WW2 vintage flying Special

Book a sightseeing flight over the Wine Country or a Kamikaze aerobatic flight or a biplane flight over famous Sonoma Raceway, the Golden Gate Bridge and the San Francisco Bay for one or two during the spring and get a free souvenir t shirt!
(NEW! Ask about the P-40 flights!)

707 938 2444

Just tell them that you saw this on the Factory Pro website!
Marc
Northern California's most unforgettable flying experience. No experience required. Open weekends!

The extension of the laboratory for engines of the Swiss Federal Institute of Technology was completed in about 1935. Its architect was Rudolf Otto Salvisberg (1882-1940). He had a successful career in Berlin but returned to Switzerland after the advent of the Nazis. His architectural style was somewhat similar to that of Erich Mendelsohn. The staircase of the laboratory is in normal use but well preserved.
Edited to the tunes of Chemical Residue by Herbie Hancock.