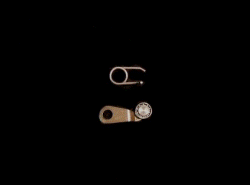 SHFT-PRO-KAW-91 $119.95
(no shift cover gasket included)

includes: STEEL microbearing detent arm, F-Pro shift spring and no gaskets.
Add $20 for a Hybrid Ceramic microbearing upgrade.
Pro Shift Kit
I've never put one of these kits into a Voyager.
Because of the driveshaft, you probably have to pull the engine to install the arm and spring.
The arm and spring work well in the Voyager's little sibling, the 92-95 zr1100 Zephyr.
.....................................
Std STEEL microbearing detent arm, F-Pro shift spring.
The Internet's only Shift Kit choice for this bike.
Make shifting quicker and virtually eliminate missed 1-2 shifts and false neutrals. This is the same type of kit that Muzzy, Vance and Hines, Yamaha Racing has used.
MUCH better shifting and fewer missed shifts.
Note! If the bike already pops out of 2nd gear under power, - this kit will not fix that. You'll need to split the engine cases, replace 2nd gear, the gear it mates with and the 2nd gear shift fork. Inspect the shift drum for damage on the "point" of the 2nd gear "slot" (that's rare on this bike).
Installing this kit after you've fixed the internal damage will help prevent 2nd gear from being damaged by missed shifts in the future.