The standard jetting is somewhat lean and off-idle, takeoff drivability suffers - (but mileage is GREAT!!!)
This carb kit, when properly tuned, adds more low-end / midrange and if the proper main jet is selected, more top-end power. Easy to install and tune - no slide drilling.
..............................................
Note:
This S10 kit is for 500's with carbs with TWO float bowl screws.
Use our S11 kit if you have FOUR float bowl screws - S11 - click here.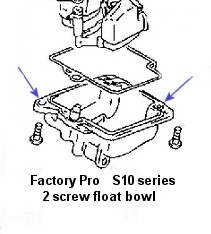 This "S10" Kit is for bikes with TWO float bowl screws, stock 122.5 main jets, which is what all of the 89-00's had.
There are SOME "01's" (which theoretically, don't exist) that we saw with different main jets in them - They had 125 (large round slotted, "604 series type mj) main jets. These "01's, un-officially, are the later, 04"ish" model carbs...... But! To complicate matters..... Many of the so-called "01's" have the "early, 89-00" TWO screw carbs, too......
So - best idea before ordering a kit for an "01" model, is to check the main jet size in a carb before ordering a kit.
To recap: On a..... "01-03" gs500: If you have a 122.5 as your stock main jet size, order the "S10" kit that's on this page. If you have a 125 or 127.5 as your stock main jet size, order the "S11" kit that's on this other page - click here