The standard jetting is somewhat lean and off-idle, takeoff drivability suffers - (but mileage is GREAT!!!)
The kit, when properly tuned, adds more low-end / midrange and if the proper main jet is selected, more top-end power.
Easy to install and tune - no slide drilling.
............................
Our S11 kit is for 500s with carbs with FOUR float bowl screws.
Our S10 is for carbs with TWO float bowl screws - 2 screws? click here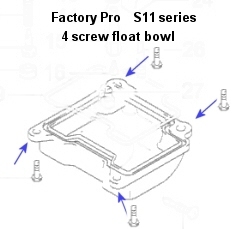 Carb kit Feedback
I just want to say thank you for the S11 kit. I can really tell a difference from the stock set-up. Throttle response in incredible now compared to the OEM.

My mechanic decided on the 137.5 main and the clip on the second setting. I have a K&N drop-in air filter, but he left the restrictor in because I have a stock exhaust. Maybe next summer I can upgrade to a performance exhaust as I still have the 140 and 142.5 jets left over. Thanks again.
Pat Pentecost
April 2009

Pipe + Jet Kit
The biggest performance problem with the GS 500 is that it doesn't breathe. There are aftermarket racing pipes available from Yoshimura (http://www.yoshimura-rd.com), Hindle (http://www.hindle.com) and Vance & Hines (http://www.vanceandhines.com). These run $350 to $400. The experienced tuners who build and tune engines for BIR racers prefer the Yoshimura or Hindle. According to them, the V & H is an older design that makes less power on the dyno than the larger-volume pipes. The V & H is noisier than the others too. If you change the pipe, you will need to install a jet kit. Dynojet (http://www.dynojet.com) and Factory (http://www.factorypro.com) have kits for the GS 500. I prefer the Factory kit because they don't ask you to drill holes in your slides, and they use real Mikuni jets with legible, meaningful numbers. The Dynojet kit contains their own style of jets that have some bizarre numbering scheme so you can't look at them and figure out what the hell they are relative to a stock jet. That's great if you're never going into the carburetor again, but if you want to do more carb tuning at some point, it will help if you are using the same numbers as everyone else.
....................................
Feedback

Hi Marc,
I have very good feedback for you "on a 2007 Suzuki GS500F" with your jet kit installed, a k/n air filter w/o restrictor, and a yoshimura slip muffler, in long island, NY altitude; the following setting are on point. 22.5 pilot jets with 2.5 turns out on a/f screws. Needles at 2nd clip, main jet 140, and floats at 14mm.The bike pulls so different it feels nothing like stock and I only have 250 miles on it. Consider these settings as good as it gets!!!

Please forward these setting to all 07' GS500 owners !!!
Marcelo