RTR-SUZ-37-04 $89.95
Factory Pro Ignition Advance Plate
Pretty easy to install -

Adding this +4 plate will generally perk up the mighty 750 to the tune of 1-3 more True HP when measured under full load (that's the proper way to measure real world power)
Part throttle power (power out of a corner) is also better.
This advance kit advances the ignition timing 4 degrees
This simple, bolt-on advance kit advances the timing 4 degrees. With stock engines with stock compression ratios, there is more power everywhere. Part throttle power is better - helping corner exit speeds. Improved in-town driveability and quicker warm up.
Installation instructions w/ large pics - click here

The TEKA line of fuel injection products features the
Teka SFI.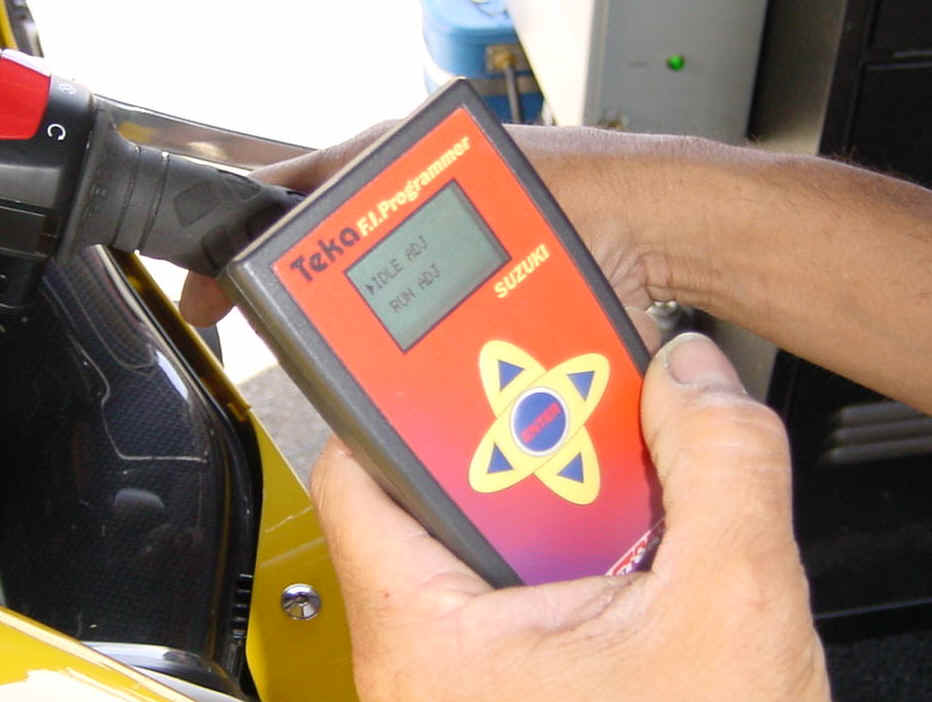 Teka SFI
It's the Factory pro designed tool specifically designed to reprogram the stock Suzuki ECU / computer.
As compared to a power commander, Major features are virtually 100% reliability, as the reliability is the same as the stock ECU and there is no permanently mounted add-on box to fail and changes take 30 seconds and NO laptop.
Realtime tuning, no maps to lose, no problems with RF interference, no computer required to tune, no instant 1% to 2% hp loss w/ zero map, Easy to tune at the track on the pit wall, takes only about 20 seconds to make changes, easy to change during a 600 mile service, easy to tune for those new pipes your parts dept. just sold, no waiting in line for someone to non-optimally "tune to an a/f ratio", fits in your back pocket, digital accuracy, and do one, a 100 or a 1000 bikes.
Team Vesrah, Suzuki Cup World Champion Robert Jensen, Hooters Racing and many more have used the TEKA SFi.
In fact, 5 WERA National Championships and one World Championship were won using the TEKA SFi.
In a championship race, even one power commander failure can mean winning the overall and finishing second in a years worth of work -


SHFT-PRO-SUZ-37 $139.95
Factory Pro Detent Arm Kit - Shift quicker and Stop missing shifts.
Make shifting MUCH quicker and virtually eliminate those missed shifts. This is the same kit that most of the AMA has used at one time or another -
Includes Factory Pro Microbearing Detent Arm, the Factory Pro stronger detent spring and, if the package is *carefully* opened, a new clutch cover gasket.
So.......Stop missing shifts and protect your transmission from the damage caused by missed shifts - Install a Factory Pro Detent Arm Kit soon -